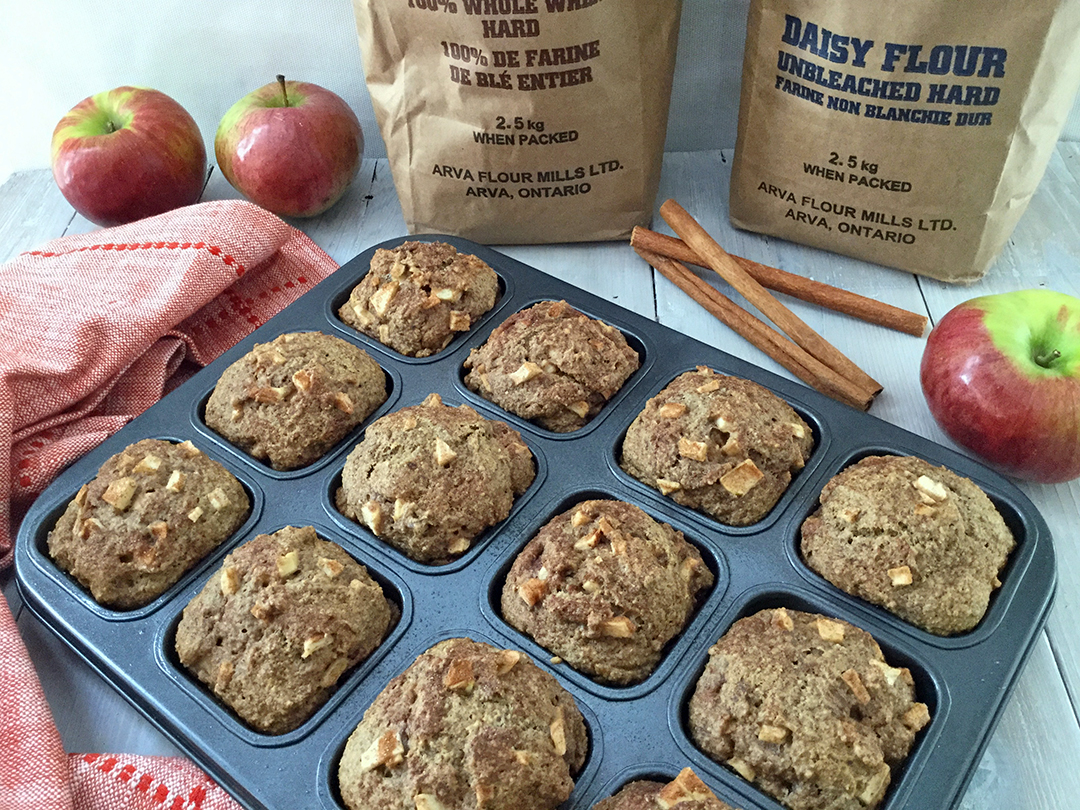 ** I received free flour products from Arva Flour Mill for testing and review. All opinions given are entirely my own and I would not recommend their products if I did not love them. **
If you're Canadian, you know how popular Tim Horton's apple fritters are.
This is my healthier take on this iconic Canadian treat. Instead of being fried and laden with extra fat and calories, my Apple Fritter Oat Muffins are full of good-for-you ingredients and the same warm apple-cinnamon flavour everyone loves.
I recently discovered Arva Flour Mill's freshly milled flour products for baking, and I've been hooked on them.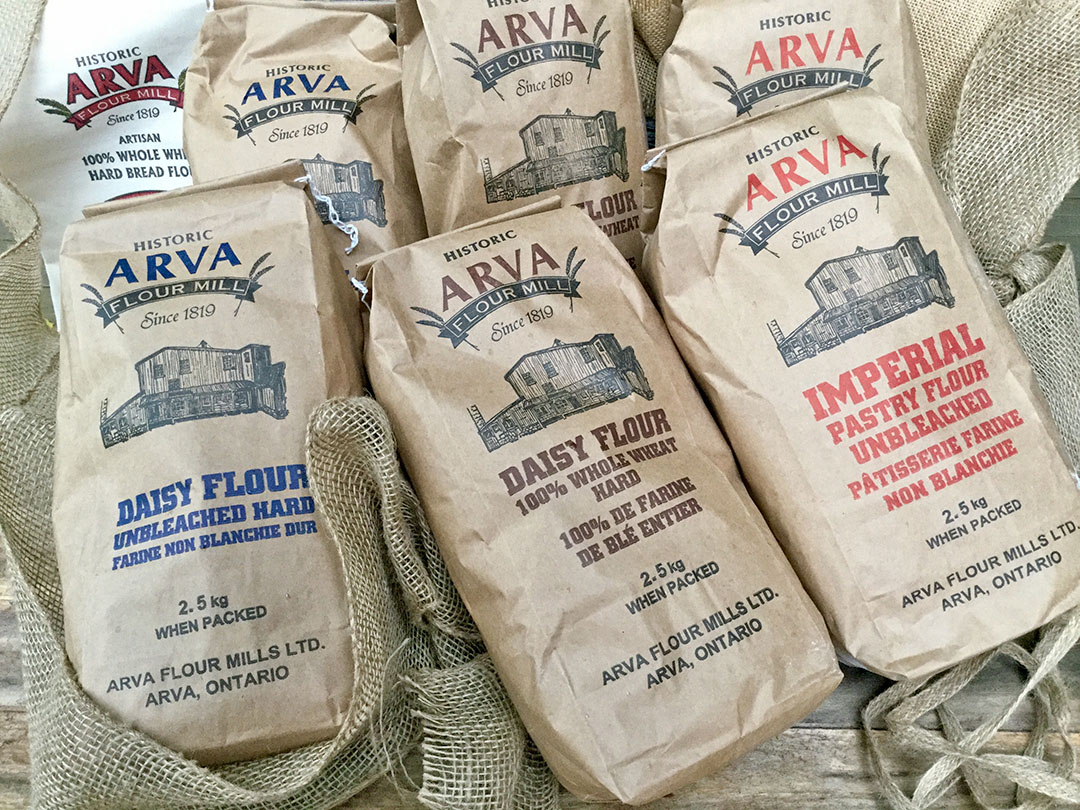 Arva Flour Mills is a historical family-run water-powered mill located near London, Ontario on the banks of Medway Creek. Established in 1819, the mill is owned and operated by the fourth generation of the Scott family. Arva has continued to produce superior heritage artisan flour for almost 200 years using vintage roller mills. This makes them one of Canada's oldest historic running businesses!
What makes Avra flour products so special? Their flours are all natural, with no preservatives or chemicals added and are made with non-GMO locally-sourced grain. The end result is an organic vitamin-enriched flour that retains its richness, flavour, and nutrition rarely found in today's domestic flours.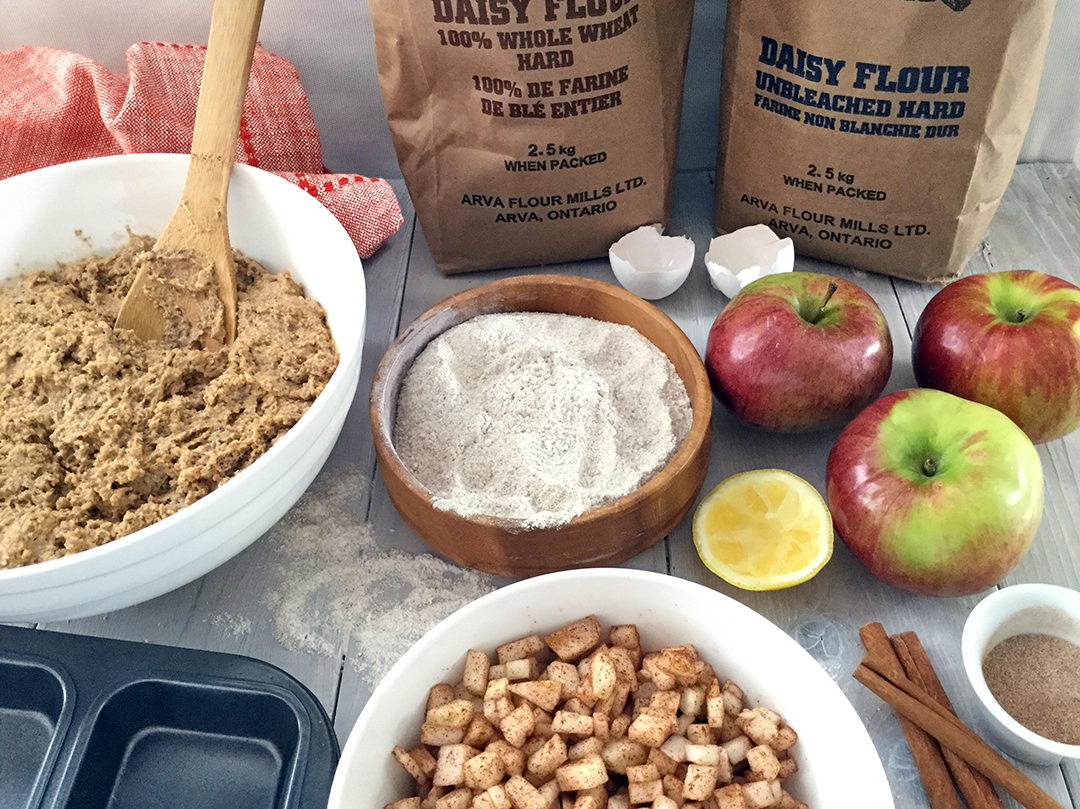 You'll be able to taste the difference. Just open a bag and smell the freshness and see how fine, soft and silky the flour is. To give these healthy muffins the perfect moist texture, I used an equal mix of Arva DAISY Unbleached Hard Flour and Arva DAISY 100% Whole Wheat Hard Flour.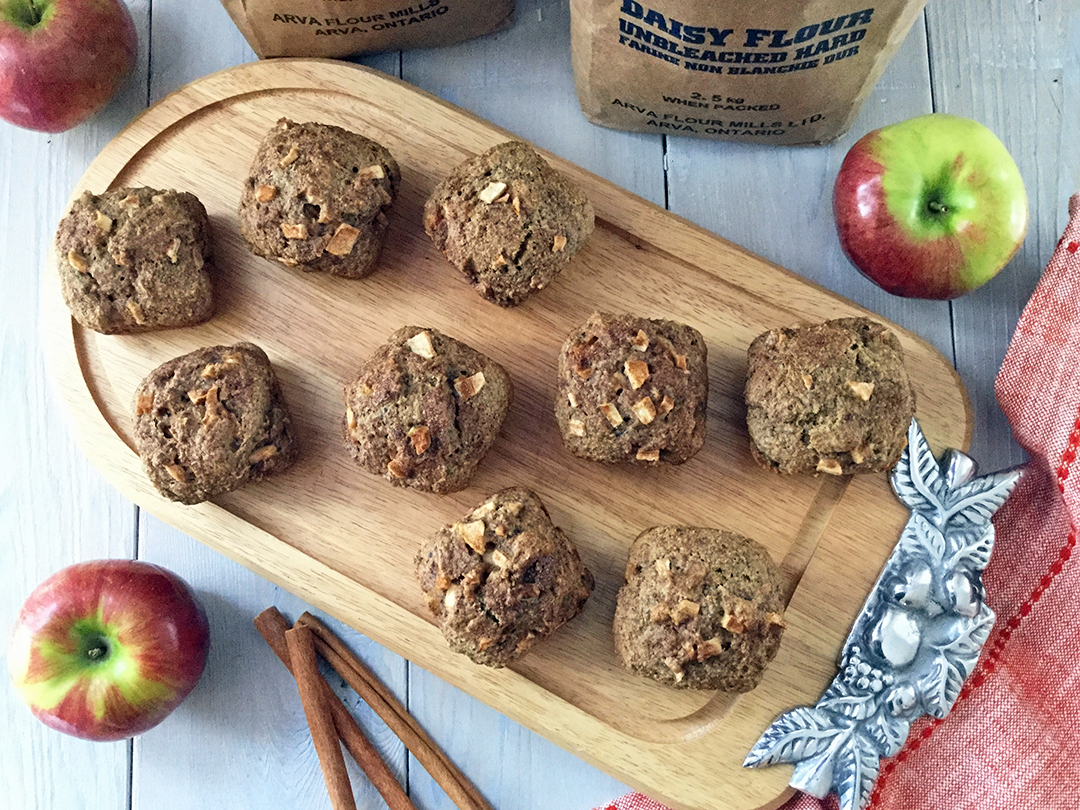 These easy-to-make, moist bakery-style muffins are bursting with sweet apples and a golden cinnamon sugar topping. They are full of all of these healthy ingredients:
If you're interested in trying Arva Flour Mills specialty baking flours, you can order them online. They will deliver freshly milled flour from their mill to your door; it couldn't be any easier! You can be proud to say "you know who your miller is".
Note: I used a muffin pan with square molds to make 12 large muffins because I wanted them to look like large apple fritters. For these larger muffins, I increased the baking time by 5 minutes. However, the baking directions given in the recipe are for making 14 – 16 standard muffins in a muffin pan with round molds.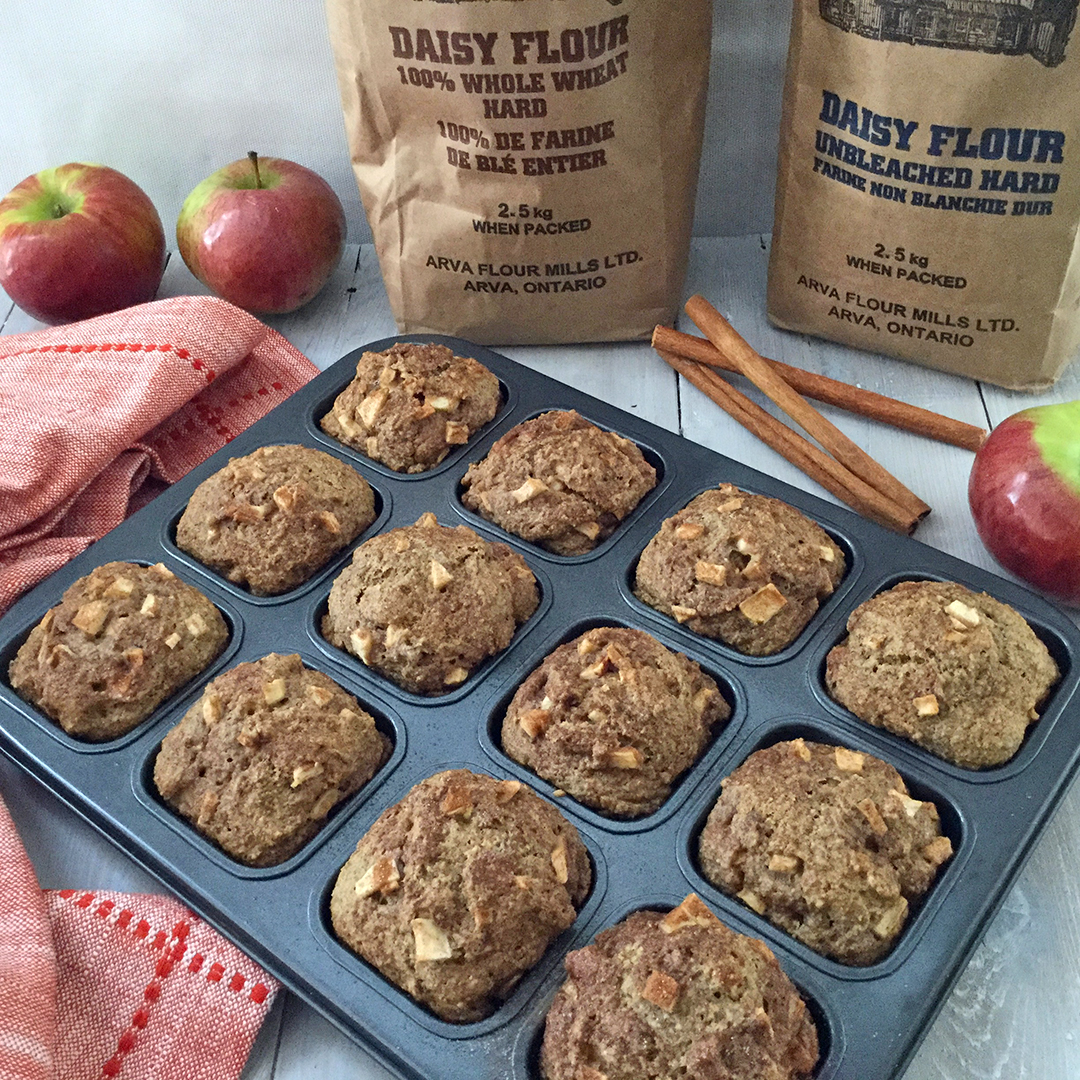 Apple Fritter Oat Muffins
2017-11-26 09:08:25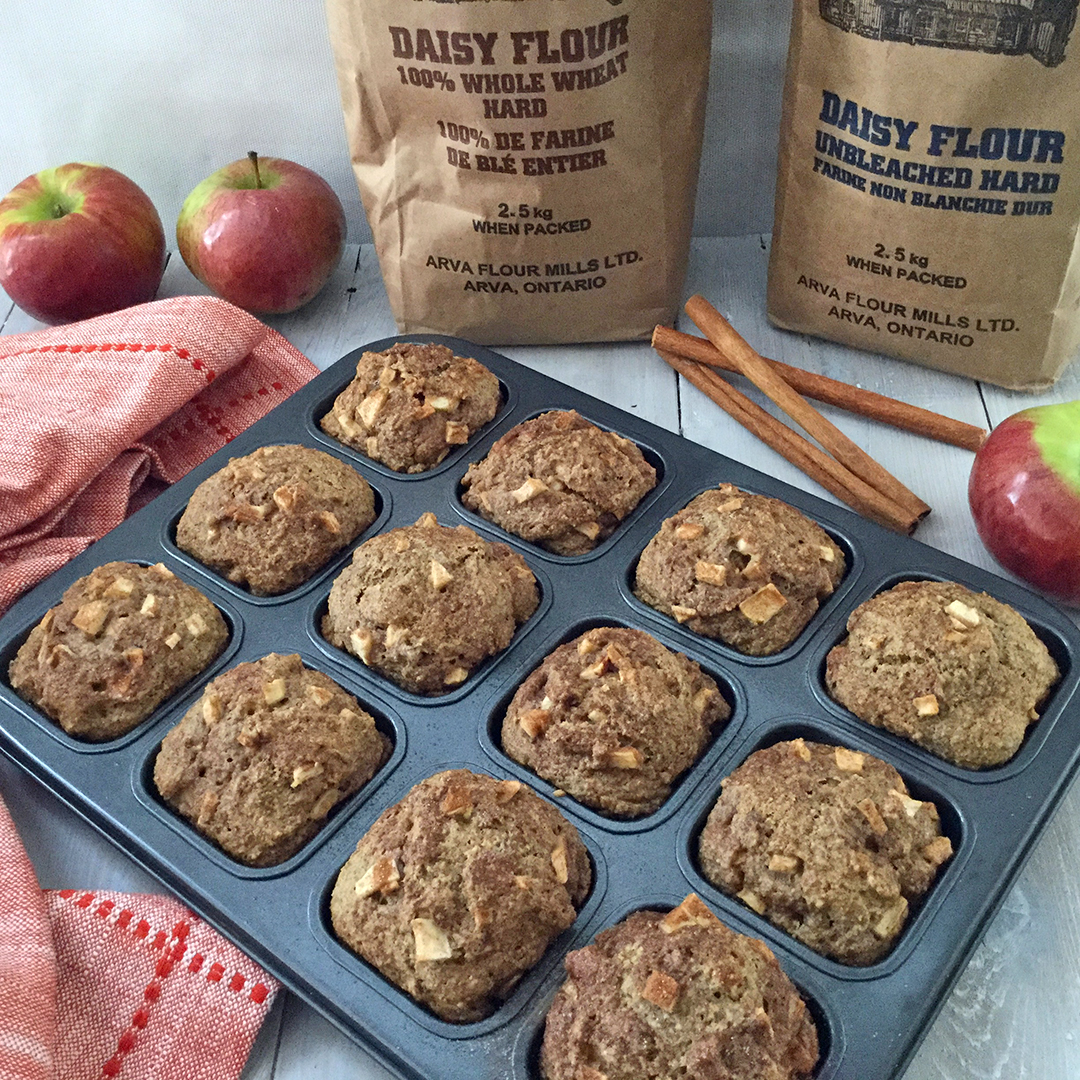 A healthy Apple Fritter Oat Muffin made with Arva DAISY Unbleached Hard Flour and Arva DAISY 100% Whole Wheat hard Flour. Chock-full of good-for-you-ingredients these healthy muffins ooze that Apple Fritter flavour that everyone loves.
Ingredients
3 cups ¼" - ½" diced apples (about 2 - 3 medium apples)
2 teaspoons lemon juice
1 teaspoon ground cinnamon
2 eggs, at room temperature
1 cup coconut palm sugar (or brown sugar)
½ cup melted coconut oil (or melted butter)
1 ¼ cups buttermilk
1 teaspoon vanilla extract
1 cup Arva DAISY Unbleached Hard Flour
1 cup Arva DAISY 100% Whole Wheat Hard Flour
½ cup ground flaxseed meal
1 cup oat bran cereal
1 tablespoon baking powder
1 teaspoon baking soda
½ teaspoon salt
Cinnamon Sugar Topping
1 tablespoon granulated sugar
1 teaspoon ground cinnamon
Instructions
Preheat oven to 350 degrees F. Grease 14 - 16 standard muffin cups with butter or nonstick cooking spray or line with paper liners.
Peel, core and dice the apples. Place them in a medium bowl and sprinkle with lemon juice and 1 teaspoon cinnamon. Set aside while preparing the muffin batter.
In a medium bowl whisk eggs, coconut palm sugar, coconut oil, buttermilk and vanilla until well combined.
In a large mixing bowl combine the dry ingredients, Arva DAISY Unbleached Hard Flour, Arva DAISY 100% Whole Wheat Hard Flour, ground flaxseed meal, oat bran cereal, baking powder, baking soda and salt.
Add the wet ingredients to the dry ingredients in the large mixing bowl. With a spatula stir just until combined and all the dry ingredients are absorbed. Gently fold in the apples.
In a small bowl combine the topping ingredients: granulated sugar and 1 teaspoon cinnamon.
Spoon the batter into each muffin cup, filling it level with the rim. Sprinkle the top of each muffin with cinnamon sugar topping. Bake until golden about 20 - 25 minutes. Let cool for 5 minutes then un-mold the muffins and cool completely on a rack.
The Kitchen Fairy http://www.kitchenfairy.ca/