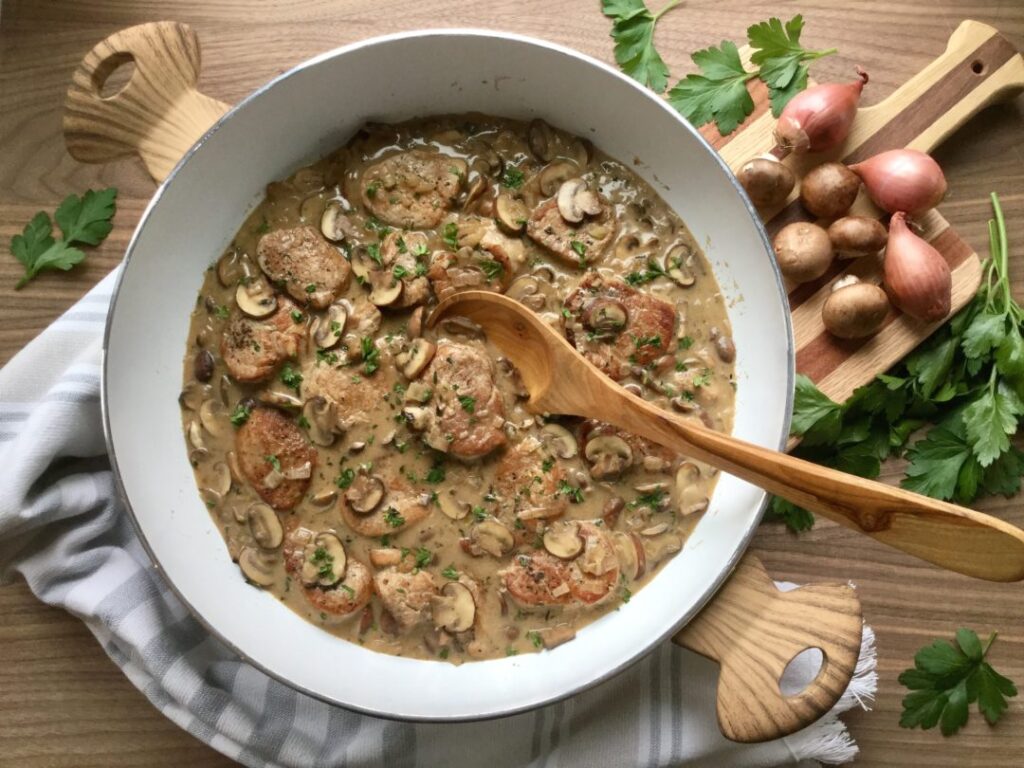 Do pork medallions sound fancy to you? Yes they likely do, but believe it or not, they are simply pork tenderloins sliced into thick rounds. This dish is simple enough to pull off for a family week-night meal while also elegant enough to impress guests for a dinner party.
The medallions brown up quickly and stay tender and juicy enrobed in a shallot and wine enhanced mushroom sauce scented with fragrant thyme leaves. The sour cream gives the sauce its creaminess and richness while lending a slight tang. The end result is a saucy and delicious meal with a wonderfully complex flavour.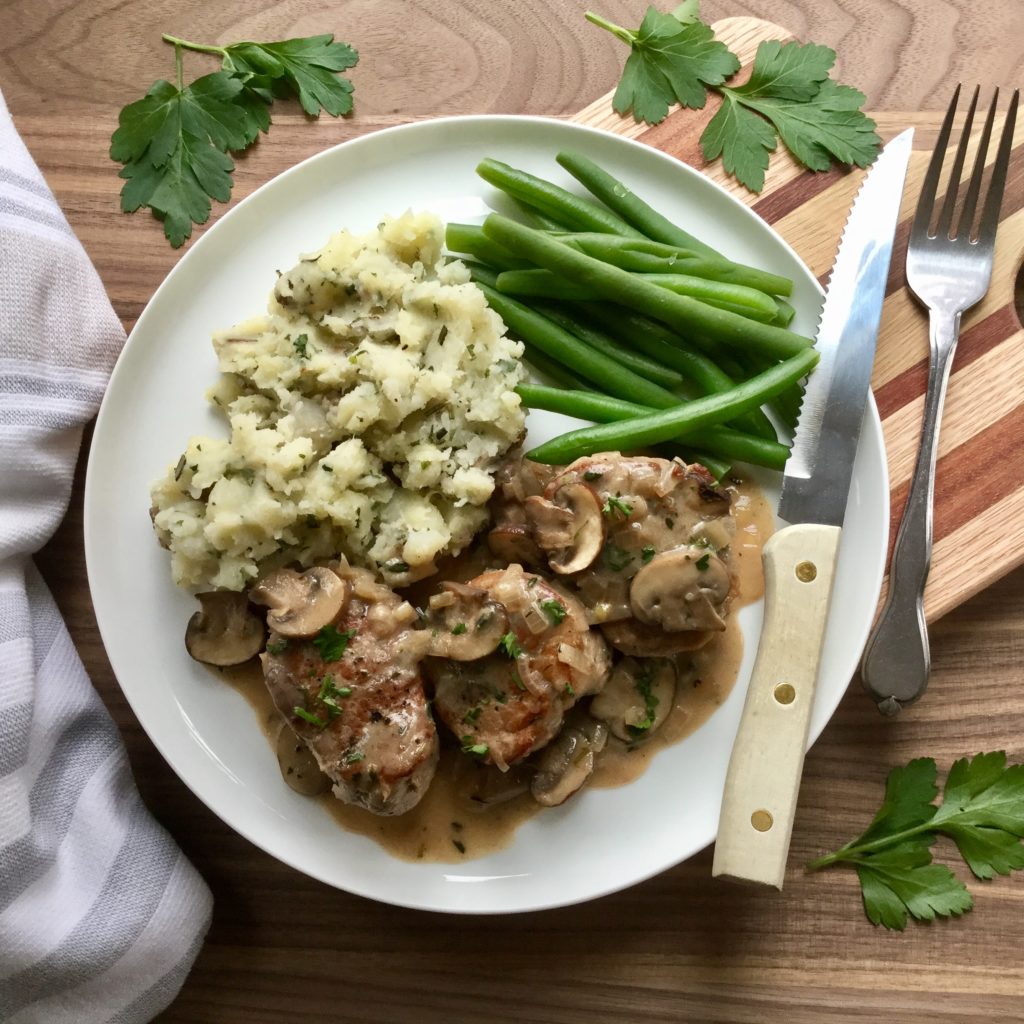 I absolutely love any recipe with pork tenderloin because it's always guaranteed to turn out moist and flavourful. But this recipe in particular is my favourite especially in winter months. It fits right into that comfort zone of rib-sticking food which is just what I need on a cold night.
My favourite side to serve with these medallions is Chunky Mashed Potatoes with Herbs & Parmesan to soak up every ounce of the flavourful sauce. You can also add green beans or steamed broccoli to square off the meal.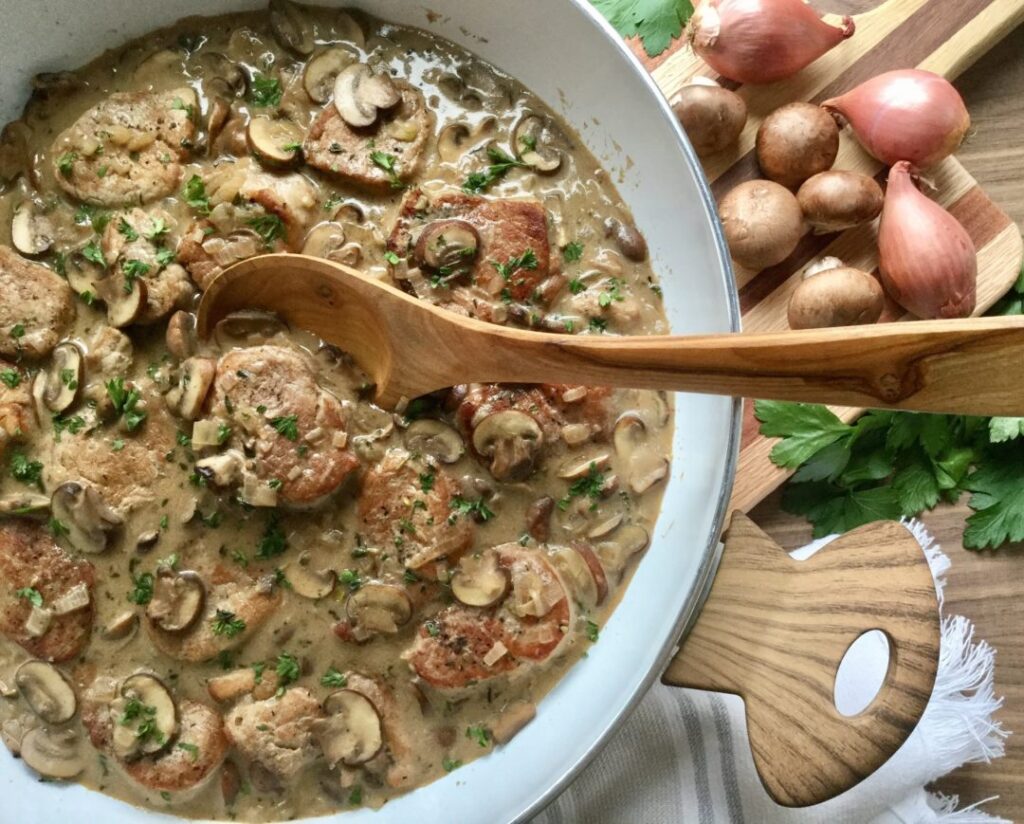 Pork Medallions in Mushroom Sauce
2017-03-10 18:24:44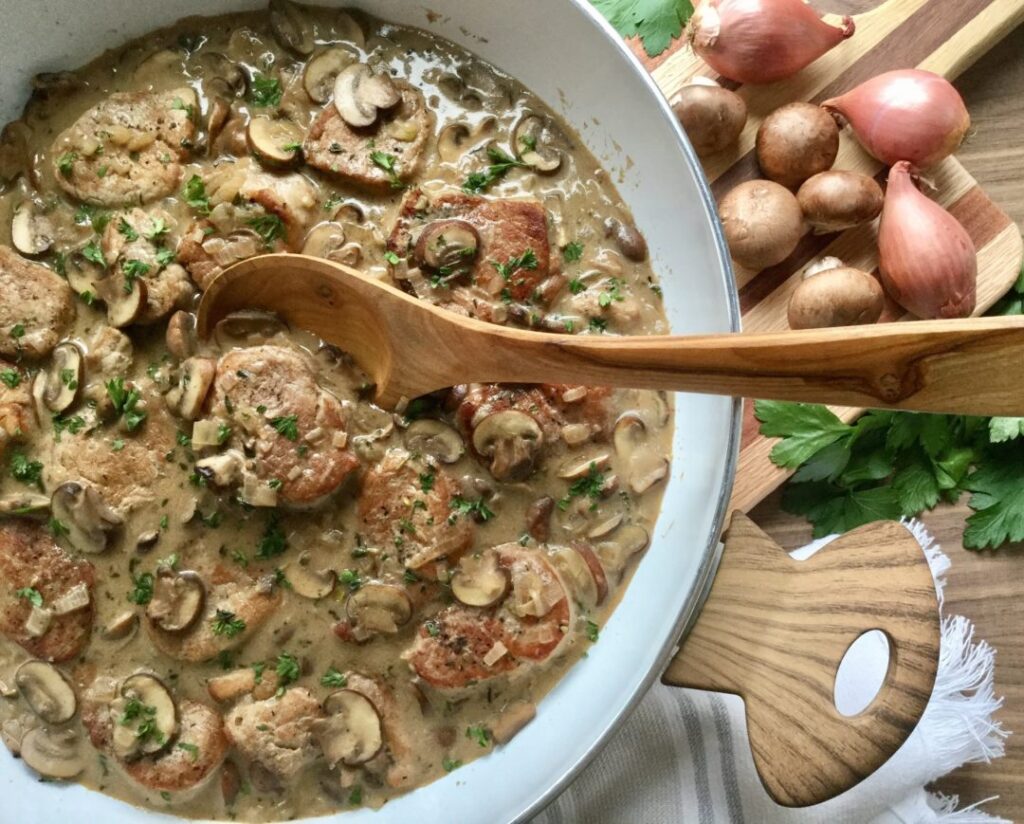 Serves 6
Ingredients
2 pork tenderloin (total weight about 2.5lbs – 3lbs / 1.1kg – 1.3kg)
2 tablespoons olive oil, divided
2 tablespoons butter, divided
1 ½ teaspoons kosher salt, divided
1 teaspoon freshly ground black pepper, divided
4 medium shallots, diced
500g cremini mushrooms, sliced thinly
2 tablespoons freshly chopped thyme (or 1 teaspoon dried)
2 tablespoons all purpose flour
½ cup white wine
1 284mL tin condensed chicken broth
½ cup sour cream
¼ cup freshly minced parsley
Instructions
Cut each pork tenderloin into 8 thick rounds to create 16 medallions, each piece about 1 – 1 ½" thick. Season both sides lightly with some of the salt and pepper.
Heat 1 tablespoon of the oil in a large 12" skillet over medium-high heat. Once heated add 1 tablespoon of the butter and heat until the butter is melted. Add half of the medallions and sear until the bottoms are browned. Flip them over and sear the other sides, they do not have to be cooked through. Remove medallions to a plate, tent with foil, and repeat process with the remaining medallions, adding a little more oil and butter as needed.
Add the remaining olive oil and butter to the skillet, let the butter melt. Add the shallots and sauté while stirring, until tender, about 2 minutes. Add the mushrooms and sauté the mushrooms, stirring occasionally, until browned, about 3 minutes. Stir in the thyme.
Sprinkle with flour and stir to combine until some of the flour has cooked out. Add the wine and cook until most of the wine has evaporated and all the brown bits are picked up. Add the broth and stir to combine.
Return the medallions and any accumulated juices to the skillet and stir to coat them completely in the sauce. Season with remaining salt and pepper, as desired. Bring to a light boil while uncovered. Reduce heat to medium-low, cover and cook for 10 - 15 minutes until the pork is cooked through and the sauce has thickened.
Remove skillet from heat, add the sour cream and stir until the sour cream is completely combined in the sauce. Sprinkle with parsley just before serving.
The Kitchen Fairy http://www.kitchenfairy.ca/