Now that it's back-to-school season, do you find yourself scrambling to find a quick healthy breakfast to feed your family on busy mornings?
Start your day with these nutritious Oat Bran Applesauce Muffins! They're filling, satisfying, and make the perfect on-the-go breakfast or snack.
Make your day a little easier and bake these muffins on the weekend. They're packed with fibre from the oat bran, whole wheat flour, and ground flaxseed. Applesauce spiced with cinnamon naturally sweetens the muffins and keeps them moist and tender on the outside, while juicy raisins add a hint of fruity goodness.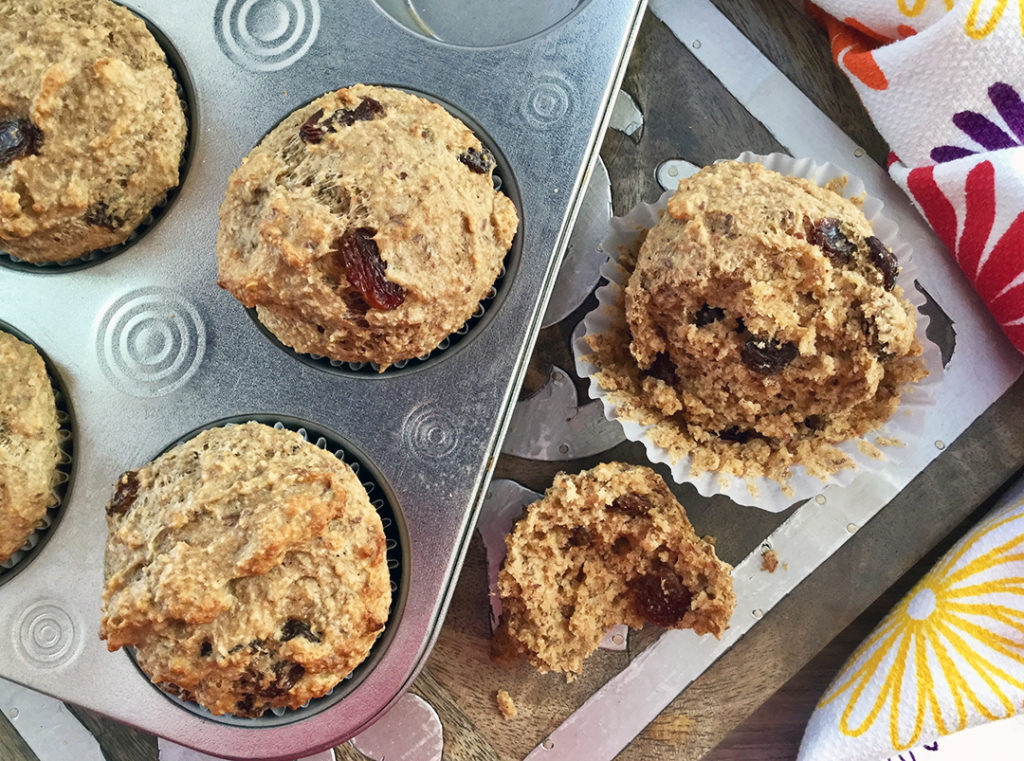 Oat bran is a high fibre whole grain cereal milled from the outer layer of the oat kernel. It adds a distinct texture and nutty flavour to baked goods. I like to use Quaker Oat Bran Cereal for these muffins.
I make this recipe often and my family loves them so much they're devoured in minutes! They're nut free which makes them great for packing in the kids' school lunch boxes where nuts may be banned.
Try these muffins and you'll be saying bon voyage to other bland, tasteless, unhealthy muffins.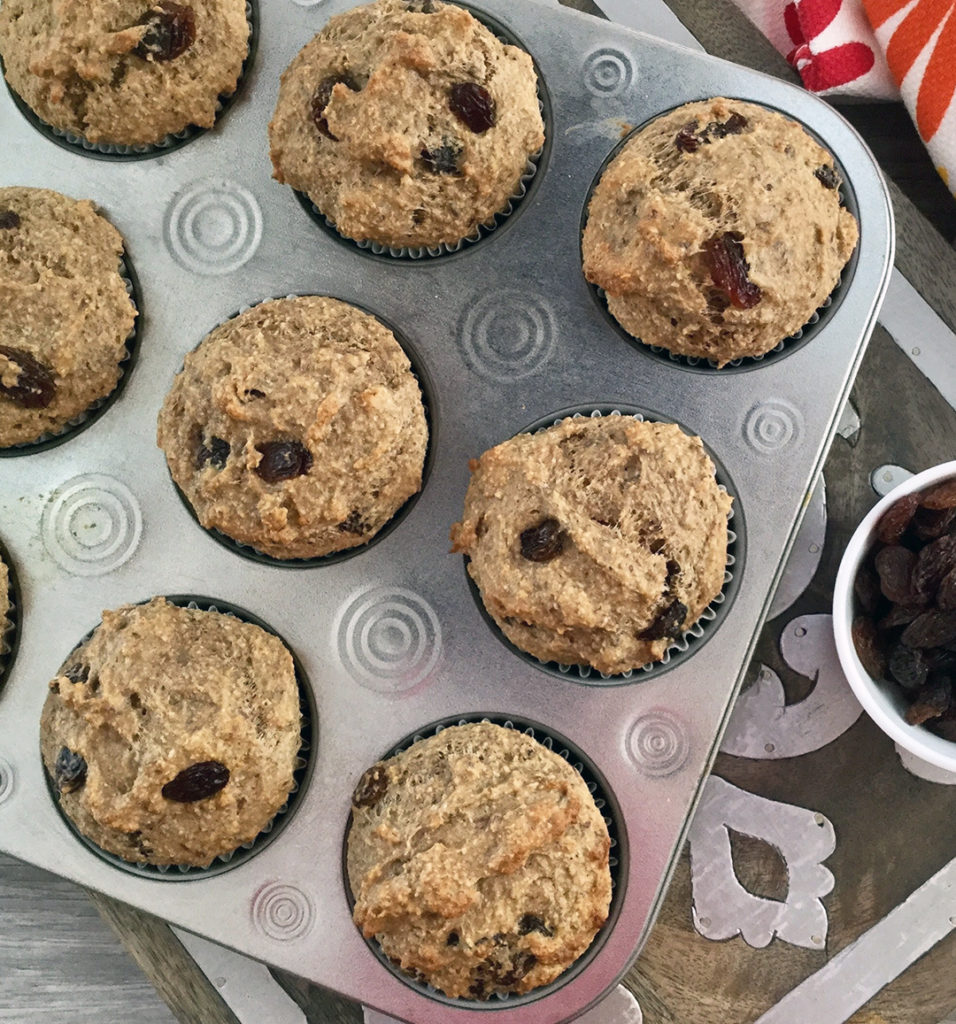 Oat Bran Applesauce Muffins
2017-08-27 17:37:42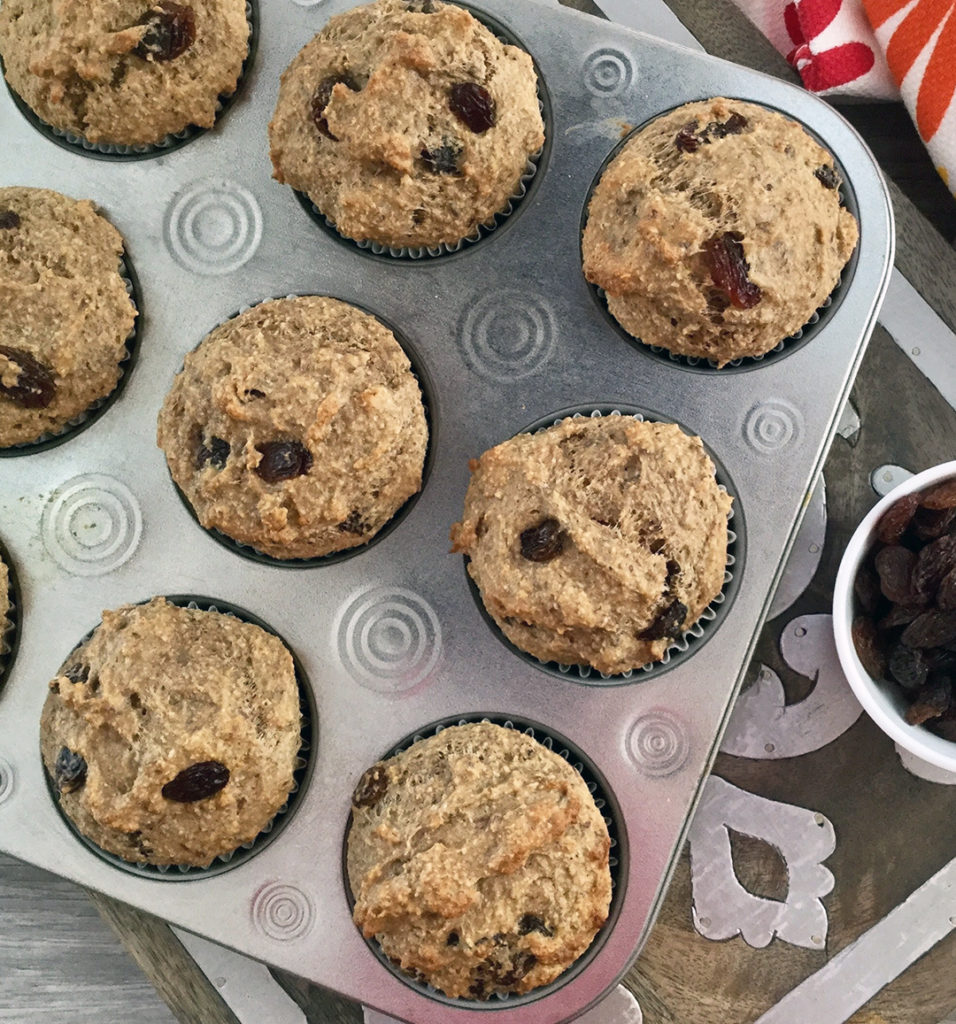 Ingredients
1 ¾ cups whole wheat flour
1 cup oat bran cereal
½ cup ground flaxseeds
2 teaspoons baking powder
1 teaspoon baking soda
1 teaspoon cinnamon
1 cup raisins
2 eggs
1/3 cup canola or vegetable oil (or coconut oil melted and cooled slightly)
1 teaspoon vanilla
½ cup lightly packed brown sugar
¾ cup buttermilk or milk
1 cup unsweetened applesauce
Instructions
Preheat oven to 350 degrees F. Grease 12 standard muffin cups with butter or non-stick cooking spray or alternatively, line with paper liners.
In a large mixing bowl mix flour, oat bran, flaxseeds, baking powder, baking soda, cinnamon and raisins.
In a medium bowl, whisk eggs then add oil, vanilla, brown sugar, buttermilk and applesauce. Whisk until well combined.
Make a well in the dry ingredients and add wet ingredients, stirring with a spatula until just moist and all the dry ingredients are absorbed. Batter will be thick.
Fill prepared muffin cups almost level with the rims and bake for 20 to 25 minutes. Let cool for 5 minutes then un-mold the muffins and cool completely on a rack.
The Kitchen Fairy http://www.kitchenfairy.ca/