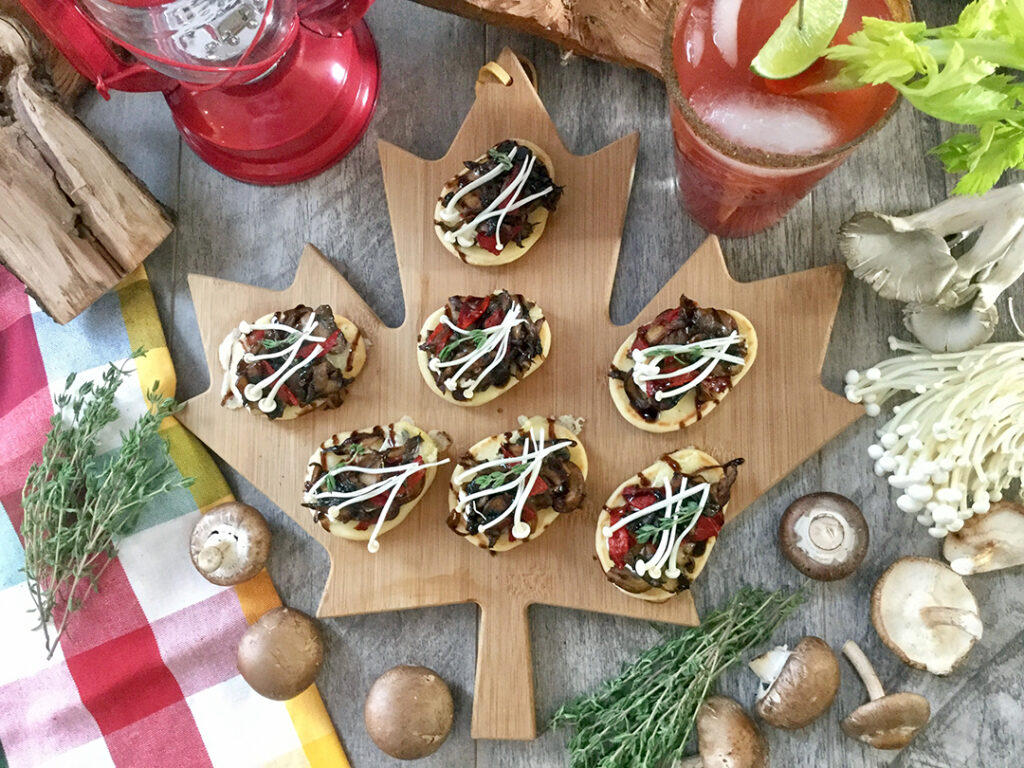 Want a flavourful and easy mushroom appetizer for your summer BBQ?
Try my Balsamic Mushroom Medley & Brie Naan Bites made with Canadian-grown mushrooms and creamy brie cheese! These bite-sized appetizers are baked on mini naan flatbread until the brie is soft and melty, and drizzled with balsamic glaze.
Mushrooms Canada Appetizer Spotlight Contest
When I found out about Mushroom Canada's Appetizer Spotlight contest, I instantly thought of submitting this recipe.
The contest is open to all Food Bloggers of Canada members, and the winner receives a full conference pass to FBC2017 in Ottawa this October. My blog has been up and running since March, but this was too late to register for this sold-out conference. Now, the only way for me to get a pass is to win my way!
Why do I want to go to FBC2017? I am passionate about sharing my recipes and growing this blog, but I need help! Attending this conference would teach me more about the business of blogging and how to grow my audience. I would also love the chance to connect with other successful Canadian food bloggers!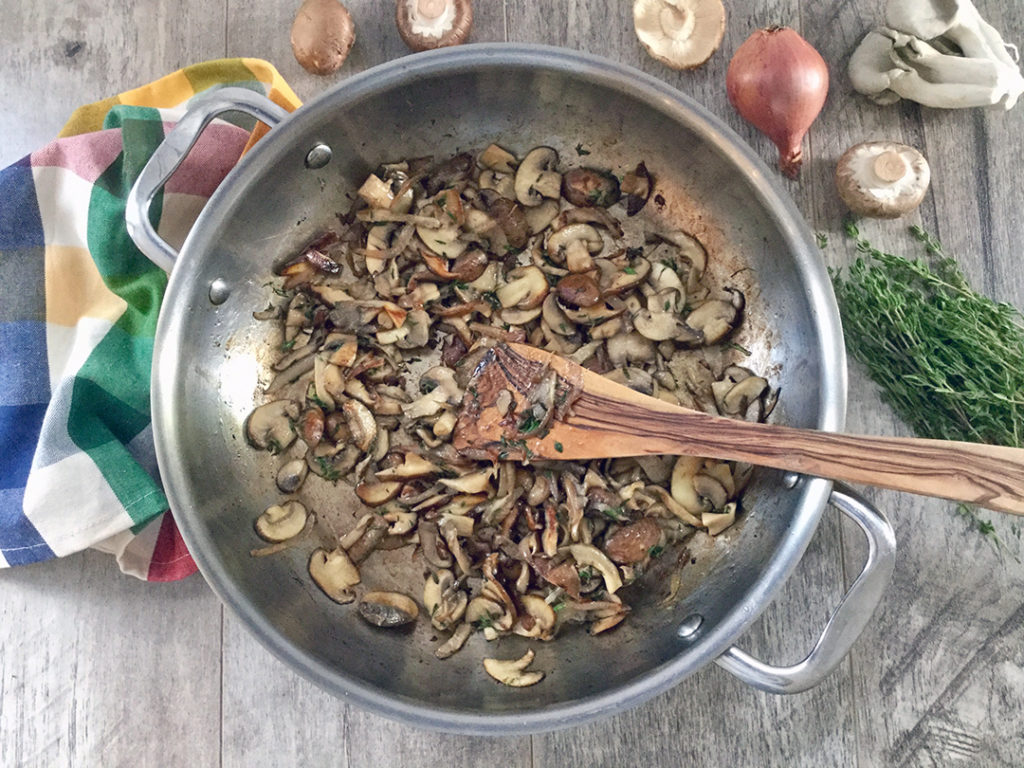 Here's the story behind how I came up with this recipe:
Every summer I look forward to spending time at my sister's cottage in Northern Ontario with our blended families. Even though my daughters are all grown up, they still love weekends at the cottage. We spend our days swimming in the lake, and our evenings cooking elaborate meals for our Italian family.
That means we do a lot more than just burgers and hotdogs on the BBQ! Recently when I was on appetizer duty, I wanted to come up with a recipe using the mini naan dippers which I spotted at the grocery store. We had Canadian brie cheese, a jar of sweet roasted peppers, shallots and crimini mushrooms on hand. I experimented with a topping for the naan dippers using all those ingredients and came up with this tasty bite-sized appetizer that satisfied everyone!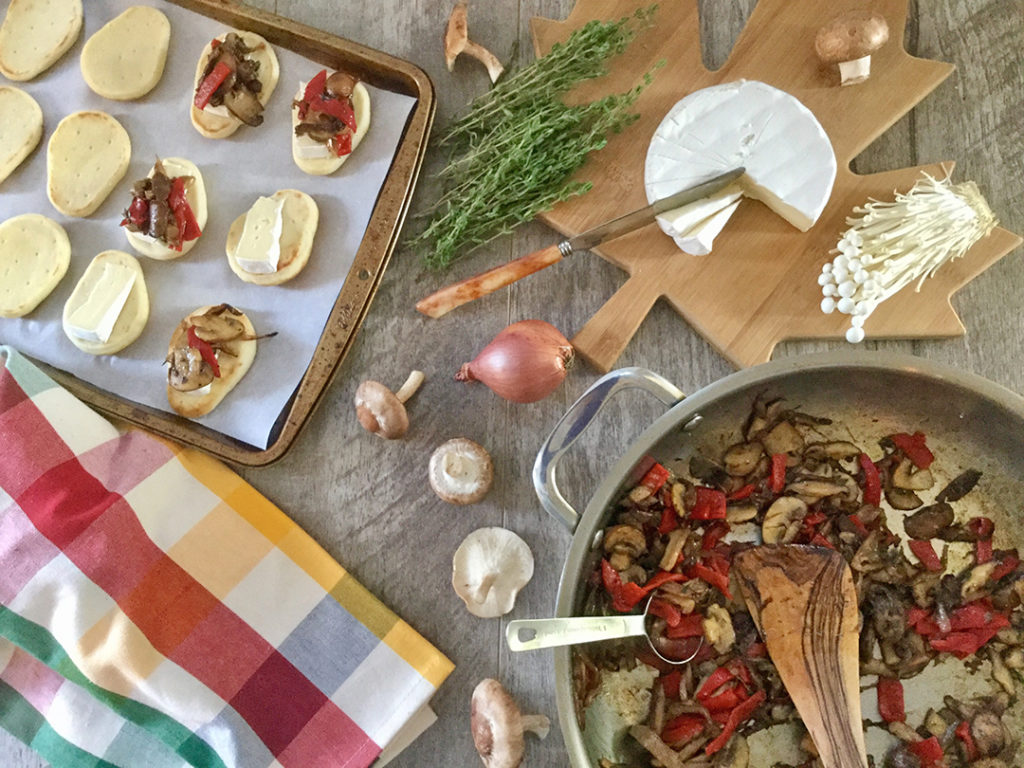 What you need to make this recipe:
For the Mushrooms Canada contest, I decided to add extra varieties of Canadian-grown mushrooms to my original recipe. My updated recipe includes a medley of crimini, shiitake and oyster mushrooms all nicely caramelized for the best flavour! For the finishing touch and to add a slight crunch, I garnished them with adorable raw enoki mushrooms.
Learn more about the different types of mushrooms used in this recipe.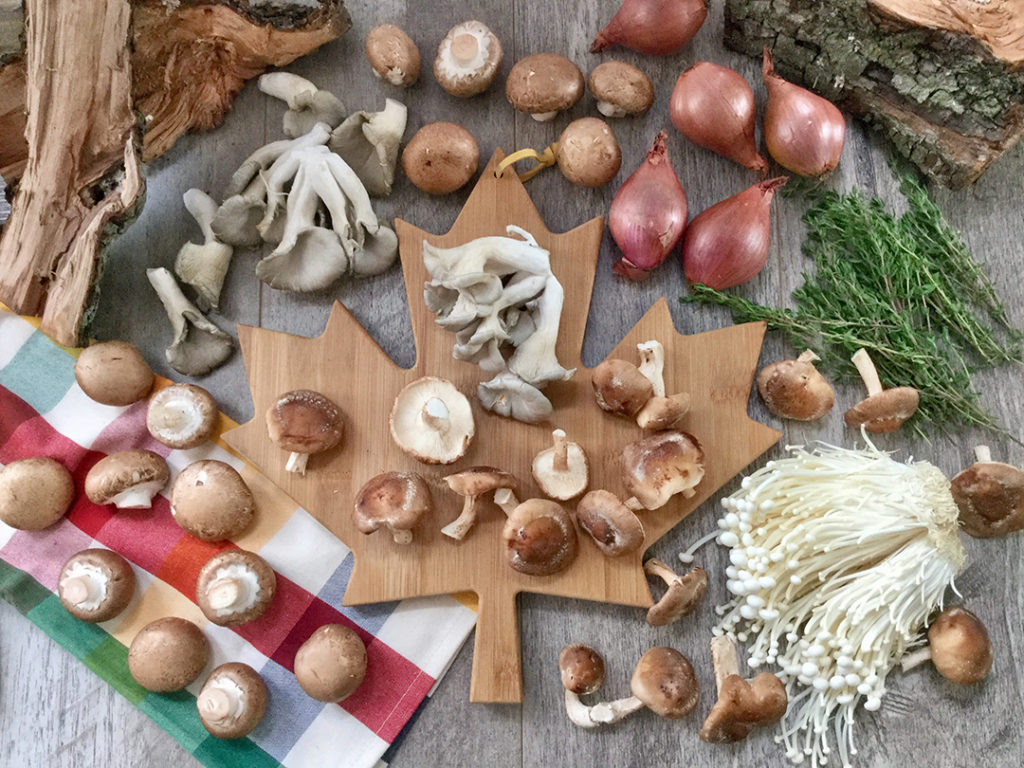 The naan dippers I mentioned earlier are President's Choice (PC) Naan Dippers. These mini naan flatbreads are the ideal size for appetizers. I also used my favourite Canadian double brie cheese that is deliciously soft and creamy. I used a balsamic glaze for the garnish, which can be found in the vinegar section of most grocery stores. I'm addicted to this stuff – it's sweet, syrupy, and comes in a convenient squeeze bottle.
You might end up with extra mushroom medley, but that's the best part. All those steaks and burgers you're grilling this summer will taste even better with a delicious mushroom topping!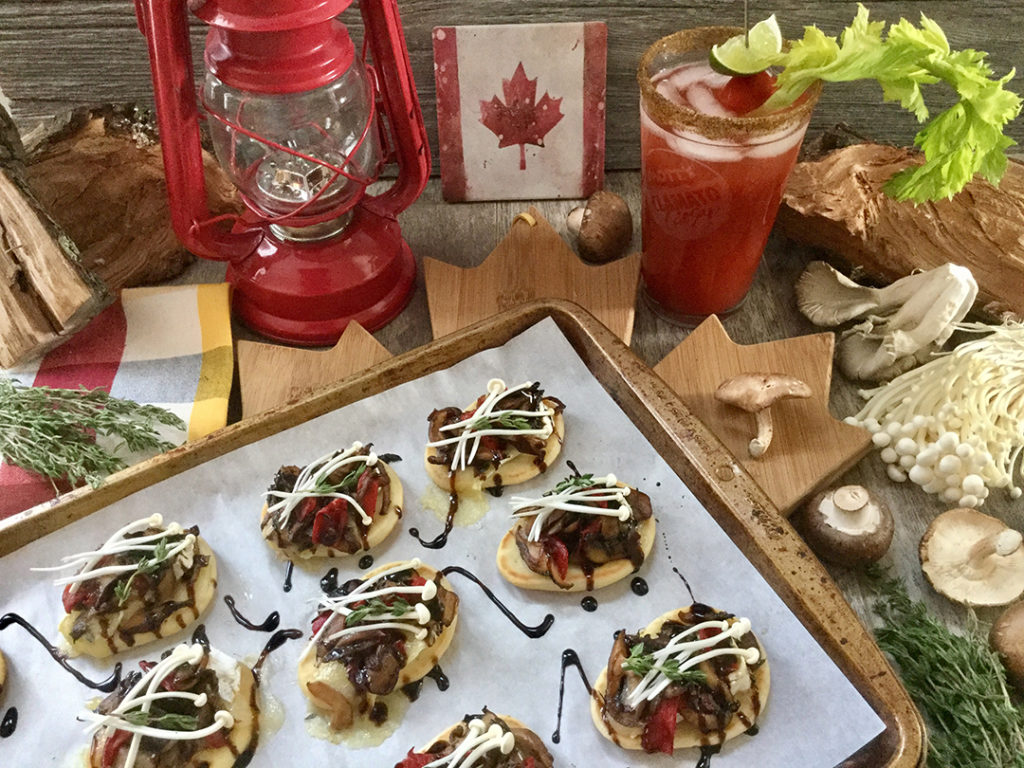 I recommend pairing this recipe with a Mott's Clamato Caesar – the iconic Canadian cocktail!
Happy entertaining and happy 150 Canada!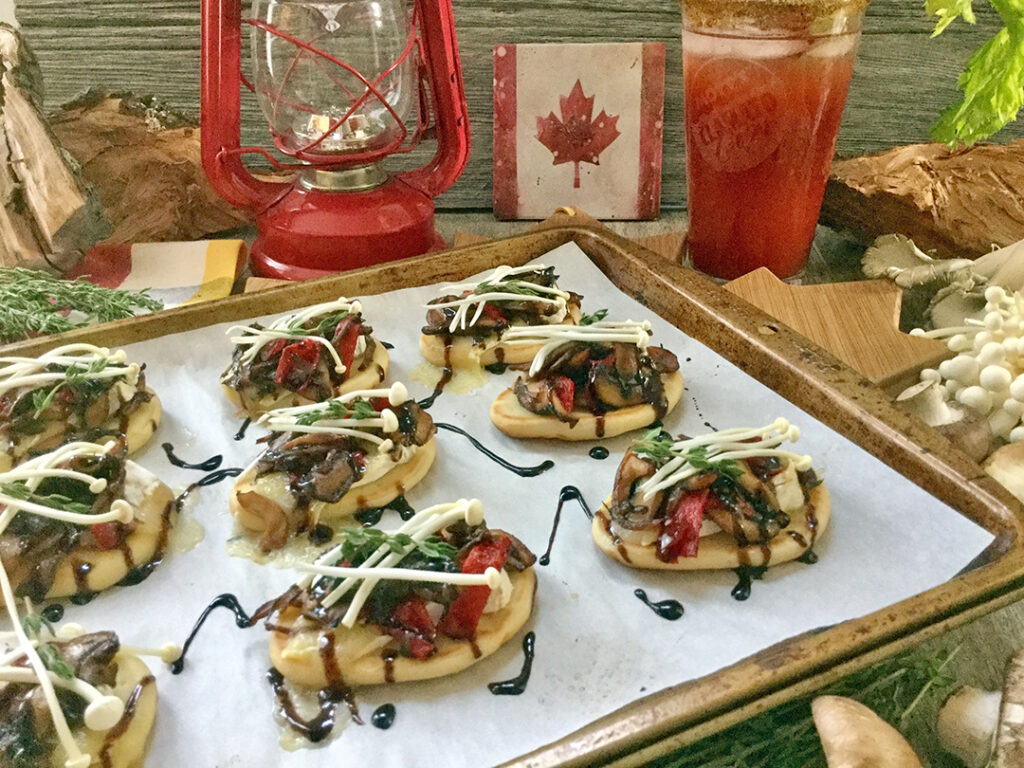 Balsamic Mushroom Medley & Brie Naan Bites
2017-07-30 16:25:58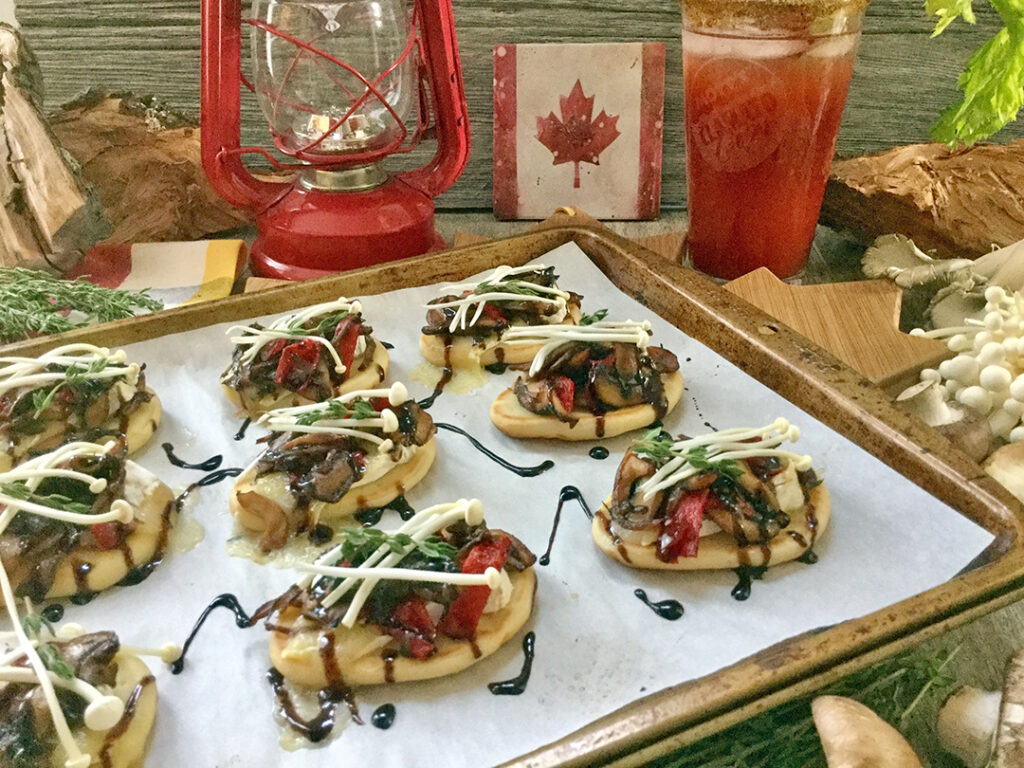 A flavourful and easy mushroom appetizer perfect for your Canadian summer BBQ. Balsamic Mushroom Medley & Brie Naan Bites are made with Canadian-grown mushrooms and creamy brie cheese! Everyone will be satisfied with these bite-sized appetizers baked on mini naan flatbread until the brie is soft and melty, and drizzled with balsamic glaze!
Ingredients
2 tablespoons olive oil
½ cup sliced shallots
2 tablespoons butter
227g crimini mushrooms, sliced
100g shiitaki mushrooms, tough stems removed, sliced
100g oyster mushrooms, tough bottom stem ends removed, sliced
2 tablespoons freshly chopped thyme
1 tablespoon balsamic vinegar
½ cup jarred sweet roasted red peppers, drained, patted dry and sliced
½ teaspoon kosher salt
¼ teaspoon freshly ground black pepper
24 mini naan dippers (purchase two 160g packages)
200g wheel Canadian double cream brie cheese, sliced into 24 pieces
Garnishes
Balsamic glaze (in a squeeze bottle)
100g enoki mushrooms, woody stems cut off, stems separated and trimmed
Fresh thyme sprigs
Instructions
Preheat oven to 375 degrees F. Prepare two baking sheets by lining each with parchment paper.
In a large 12" skillet heat the olive oil over medium heat. Add shallots and cook, stirring occasionally until softened and translucent, about 2 - 3 minutes.
Increase heat to medium-high, add butter and stir to melt. Add crimini and shiitaki mushrooms (reserve oyster mushrooms) and sauté while stirring occasionally until lightly golden brown, about 3 - 4 minutes.
Add oyster mushrooms and thyme, stir to combine, and sauté for 3 - 4 more minutes or until the mushroom medley is deep brown and caramelized.
Make a well in the centre of the pan and add the balsamic vinegar. Let it sizzle for a couple of seconds then stir to combine with the mushrooms. Cook for about 30 seconds until all the vinegar has evaporated and no liquid remains.
Stir in roasted red peppers and season the mushroom medley with kosher salt and black pepper.
Arrange the mini naan on the prepared baking sheets. Top each naan with a piece of brie cheese and top with one scant tablespoon mushroom medley.
Bake for 8 - 10 minutes or until the brie cheese melts and the bottoms of the naan are lightly browned.
Leave on the baking sheet, randomly drizzle with balsamic glaze, garnish each one with a few enoki mushroom stems and thyme sprigs. Transfer to a platter and serve warm.
The Kitchen Fairy http://www.kitchenfairy.ca/