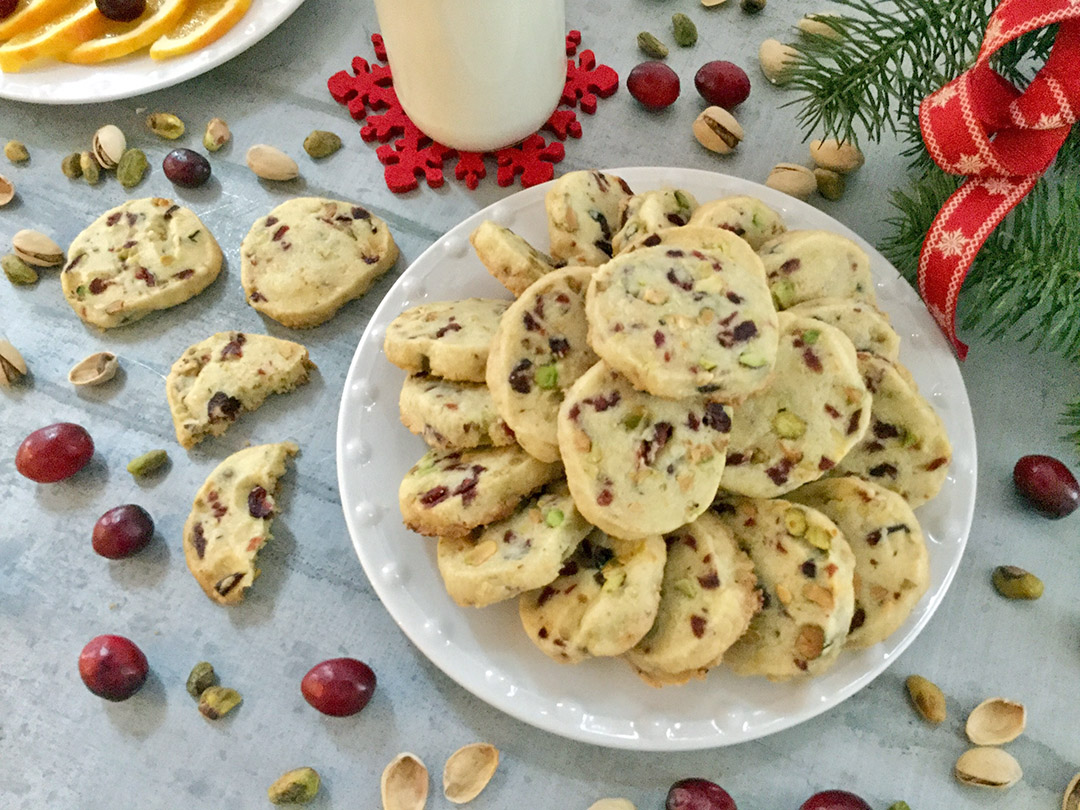 It's baking season and I'm sharing the secret to my all-time favourite shortbread cookies. These buttery vanilla shortbread cookies have a hint of orange zest, chewy dried cranberries, and crunchy pistachios. They're divine and will melt in your mouth. Heaven in a little cookie and it's no longer my secret!
Whether you're baking for a cookie exchange, a homemade gift or for a holiday treat, these small and delicious cookies are a perfect choice. Arrange them on a platter or pack them in cello bags for gifts; whatever way, they look so festive with speckles of red cranberries and green pistachios.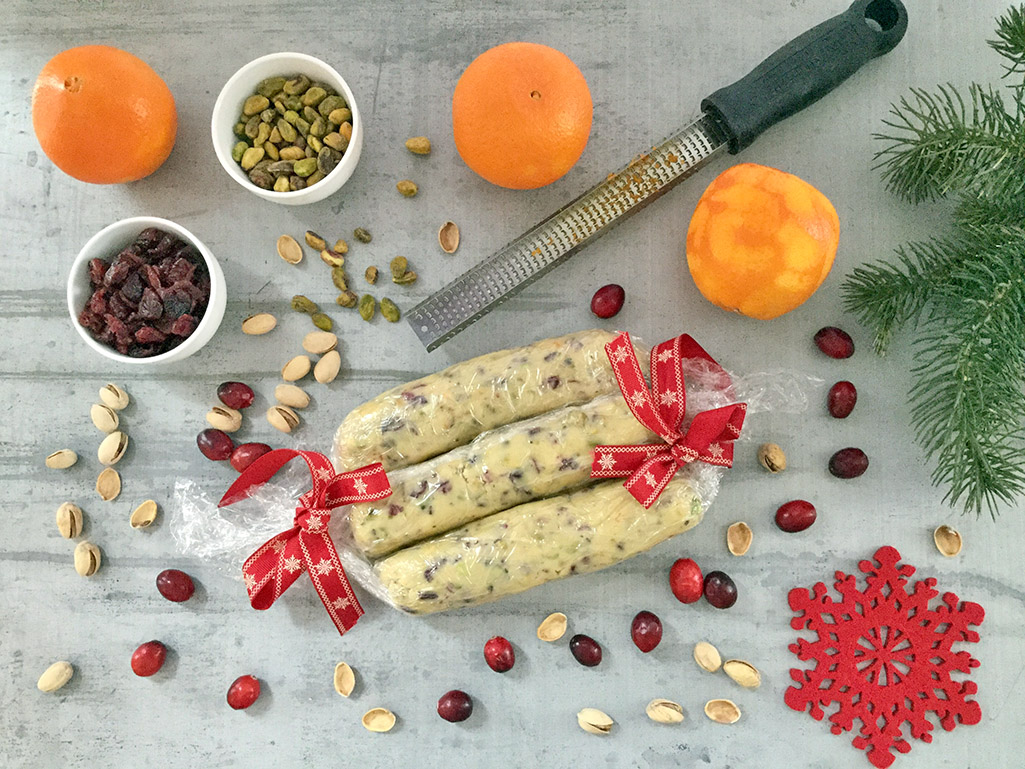 Just seven ingredients are needed to bring these classic Christmas cookies together and the most important of all the ingredients is butter. Make sure it's unsalted butter. It's the butter that gives shortbread such an amazing texture, in fact, that's what shortbread is all about – butter!
You need to use only the zest from one orange for this recipe. Since you don't need to use the juice, you can slice up the orange and snack on it after you've zested it. For best results chop the dried cranberries and pistachios as it makes them more manageable to blend into the dough. Although fresh cranberries are shown in the photo – it's actually dried cranberries that are in the ingredients list.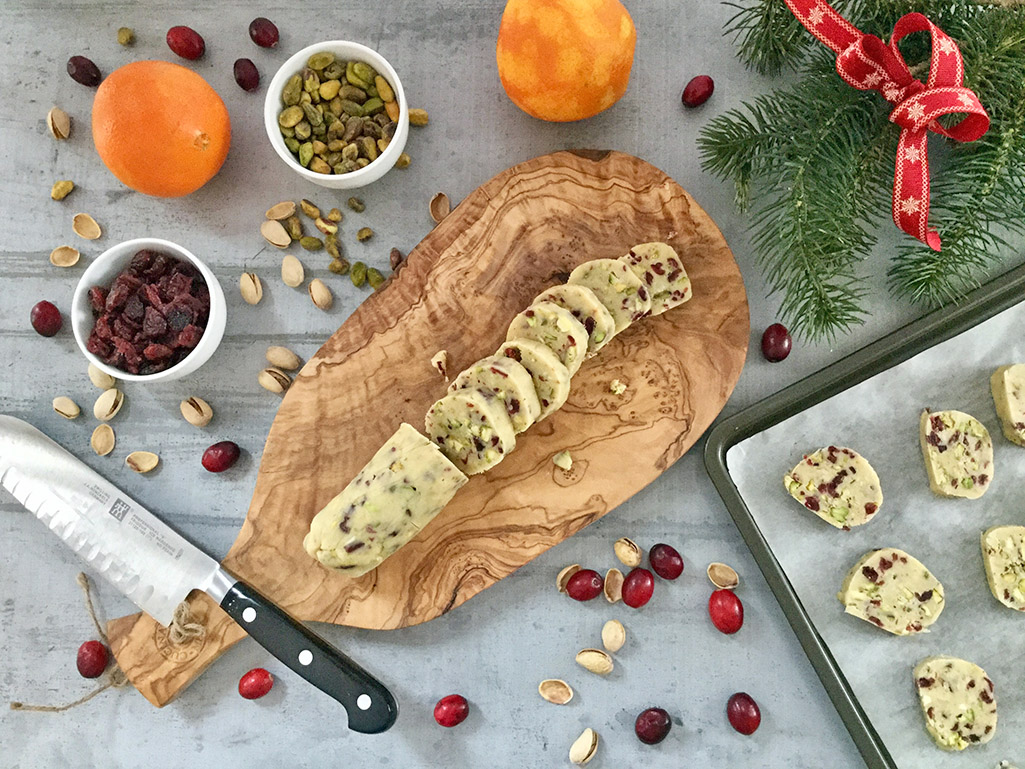 You'll be surprised how simple it is to make these sliced cookies. You can even make the dough ahead, wrap it in plastic wrap and slice and bake when needed. This makes this recipe ideal for the busy holiday season. The cookies also freeze well after they're baked.
I usually make a double batch of these cookies as they disappear fast. Seems no one can eat just one! I prefer to mix up the batches separately as I find it difficult to work with a large amount of dough, but you certainly can work with a double batch at one time.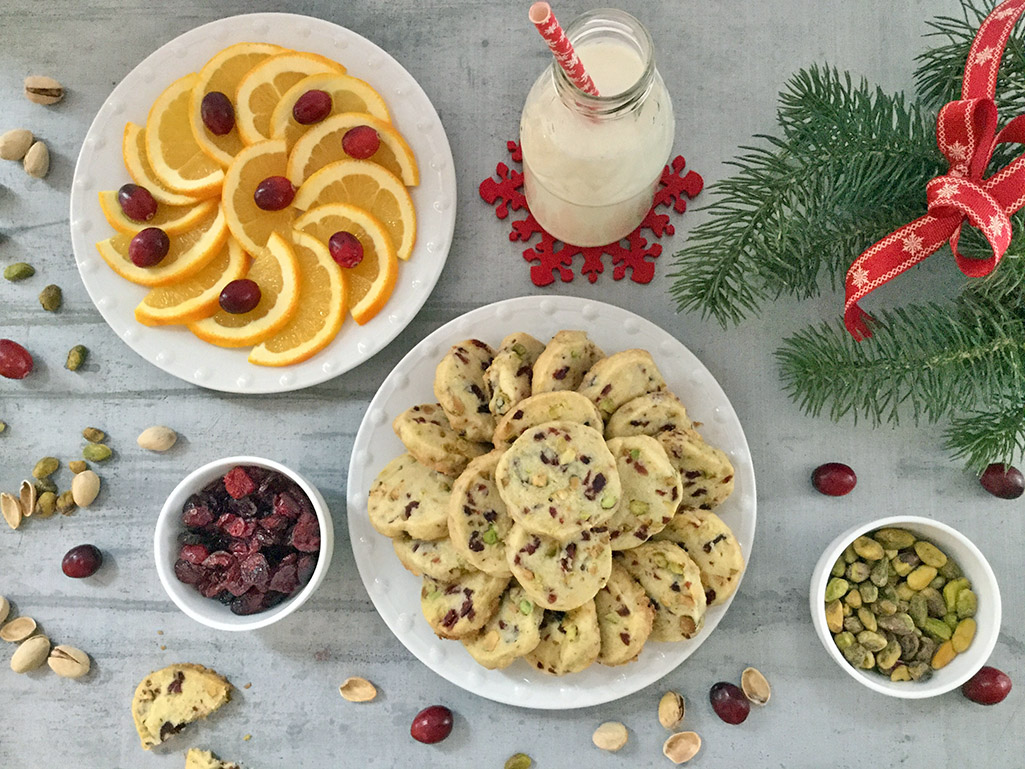 Be sure to allow enough time to chill the dough before slicing. For best results bake the cookies while the dough is still cold. When baking, don't over-brown the cookies; you get the optimum taste and texture when they are just lightly golden.
Get into the Christmas spirit and bake these tasty cookies. Your friends and family will love you for it!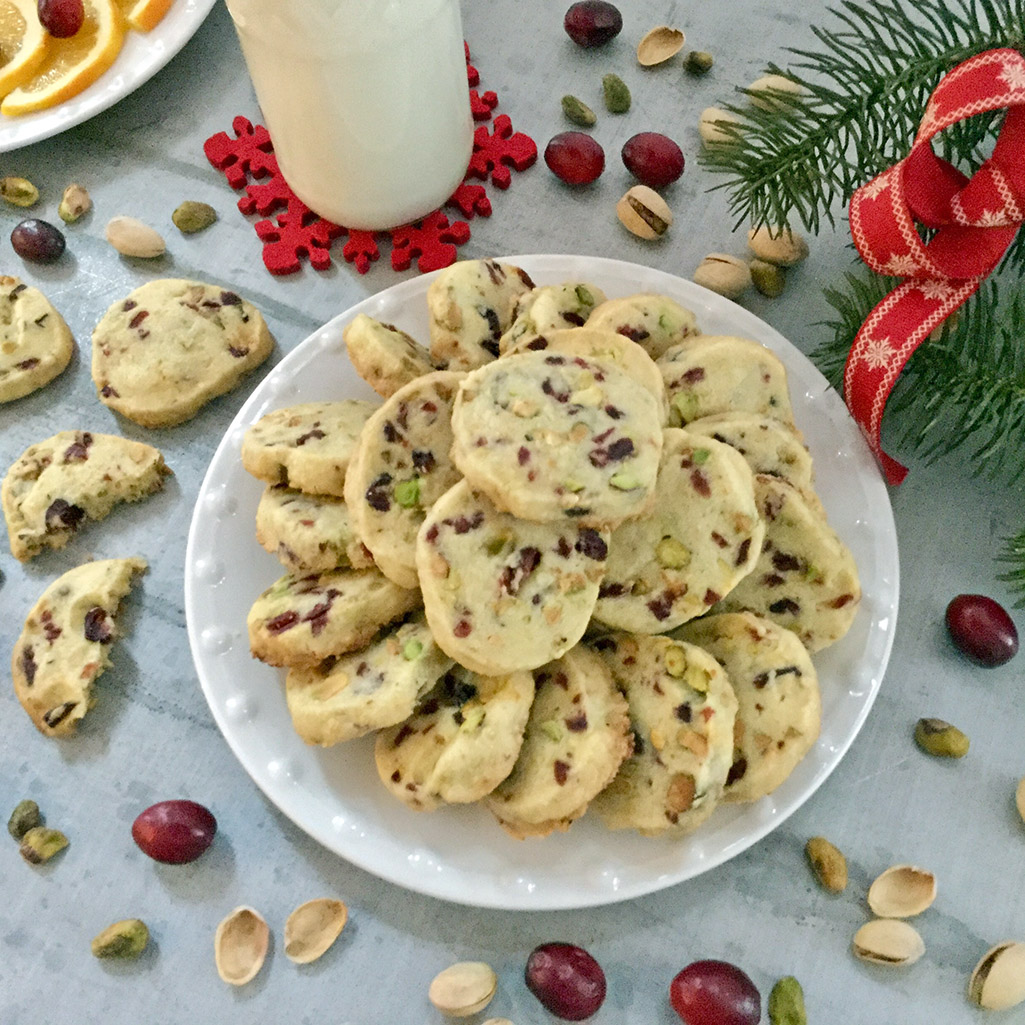 Cranberry Pistachio Shortbread Cookies
2017-12-17 07:50:25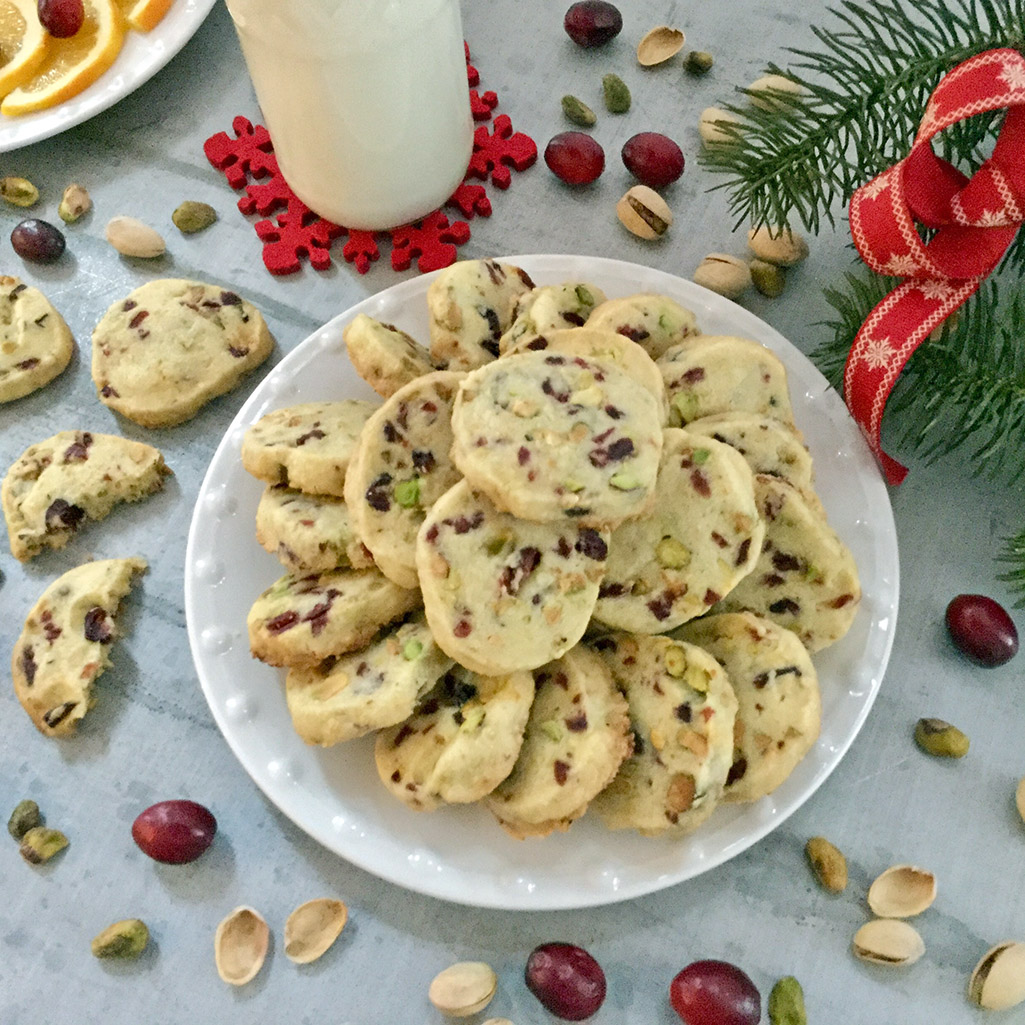 Ingredients
1 cup (2 sticks) unsalted butter, softened to room temperature
¾ cup icing sugar
1 teaspoon pure vanilla extract
1 orange, zested
2 cups all purpose flour
¾ cup dried cranberries, chopped
¾ cup shelled unsalted pistachios, coarsely chopped
Instructions
In a large mixing bowl, using a spatula, cream together the butter, icing sugar, vanilla and orange zest until smooth and creamy.
Add flour and mix until combined and a soft ragged dough forms. Fold in cranberries and pistachios. Mix to combine evenly.
Divide dough into three equal pieces and pack each into a firm ball. On a very lightly floured work surface roll each piece into a six inch log. Wrap each log tightly in plastic wrap and refrigerate for 1 hour or longer, until chilled and firm.
Preheat oven to 350 degrees F. Line two cookie sheets with parchment paper.
Unwrap the chilled logs and using a sharp knife, slice each roll into approximately fourteen ¼" thick slices. Place the slices on the prepared cookie sheets spacing them 1" apart. Keep them chilled until ready to bake.
Bake for 13 - 15 minutes until the cookies are just lightly golden. Gently transfer the cookies to a wire rack to cool completely.
The Kitchen Fairy http://www.kitchenfairy.ca/