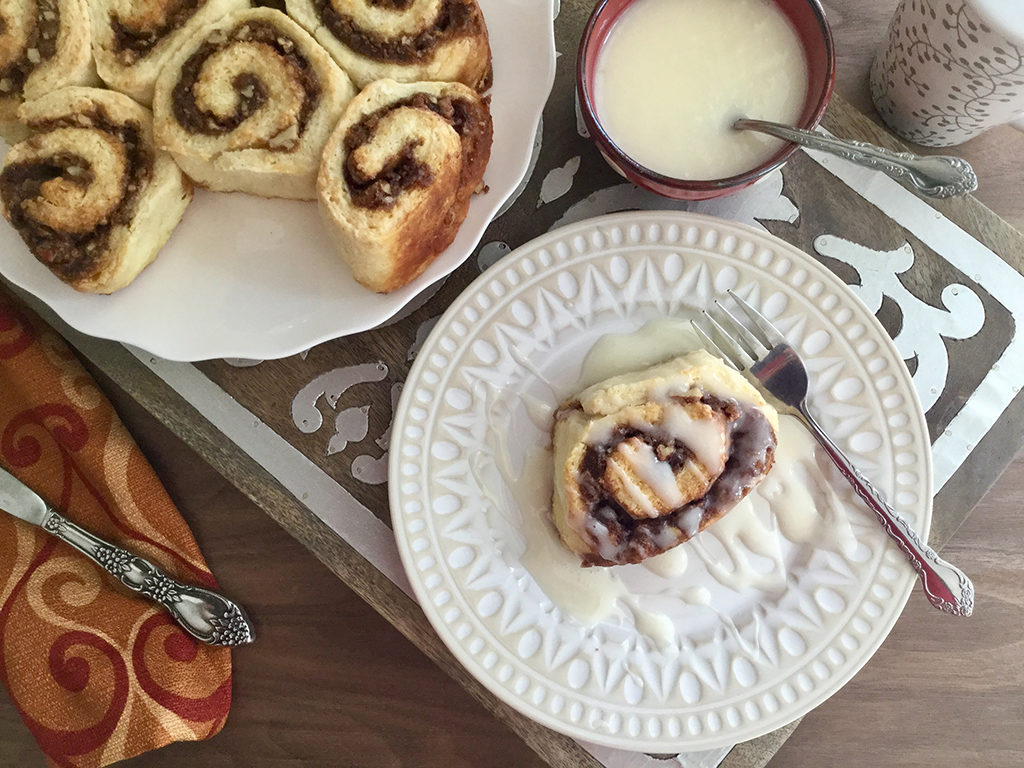 We've left summer behind and are entering the fall season. This makes me crave comfort food treats – especially ones with cinnamon that are guaranteed to improve my mood!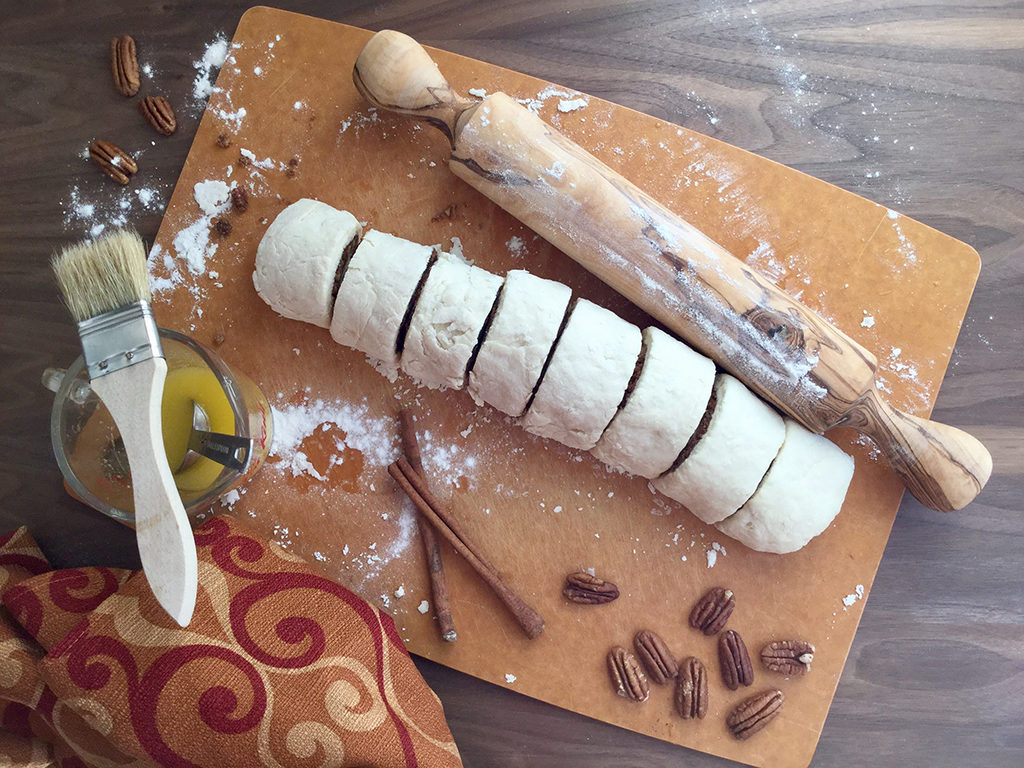 Get your cinnamon fix with these delicious rustic-looking homemade cinnamon biscuit rolls. Watch them come out warm from the oven and you'll immediately see why they are extremely hard to resist.
These rolls are made "quick bread" style – that means no fussing with yeast and no waiting for the dough to rise. That makes them easy and quick to prepare– it's just like making biscuits.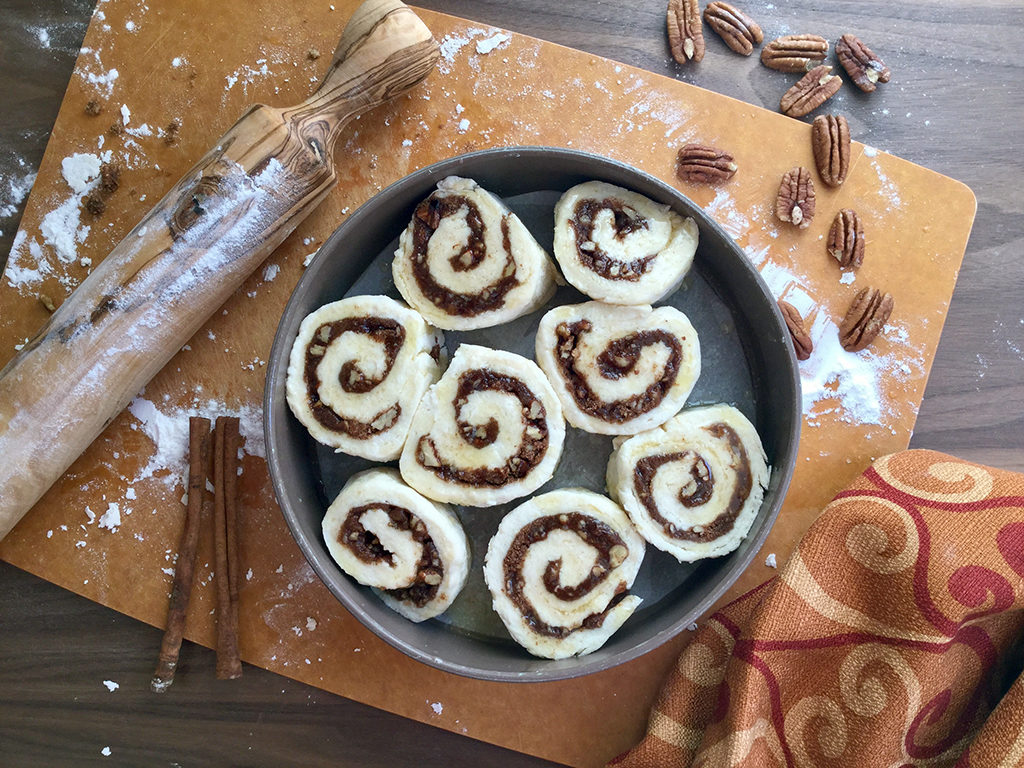 These rolls are soft and fluffy on the inside while golden-crisp on the outside. Bursting with butter, cinnamon, pecans and brown sugar and slathered with a thick coat of sweet cream cheese-infused icing makes them the perfect sticky gooey cinnamon treat. You won't be able to wait to sink your teeth into them!
I love to make a batch of these rolls in the fall season when I have friends coming over. I pop them in the oven just as they arrive for afternoon coffee. Everyone notices the cinnamon scent drifting from the oven and it sends them to heaven! With the fall season bringing colder weather and darker shorter days, we all need some heaven in our life.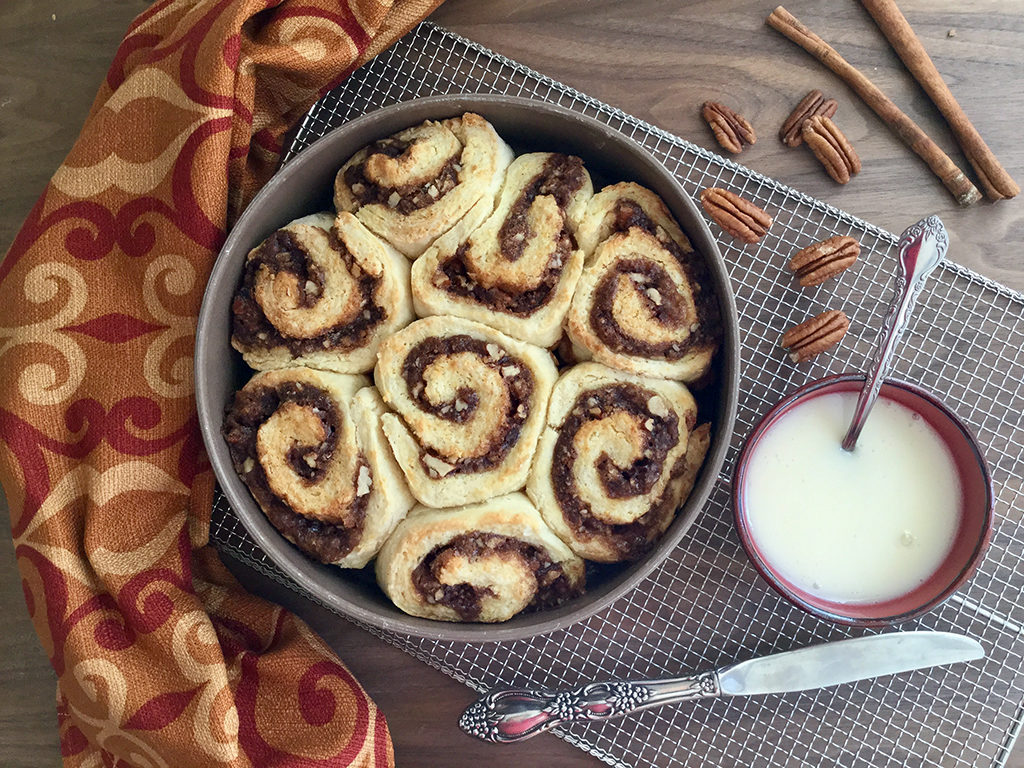 The rolls are best eaten warm with gobs of icing drizzled over top. No need to bother with cinnamon spiced candles this fall! Just bake a batch of these cinnamon biscuit rolls instead!
Although this recipe makes 8 rolls, seemingly to serve 8 people, some of my friends can easily wolf down two of them in one sitting – so be prepared to bake more!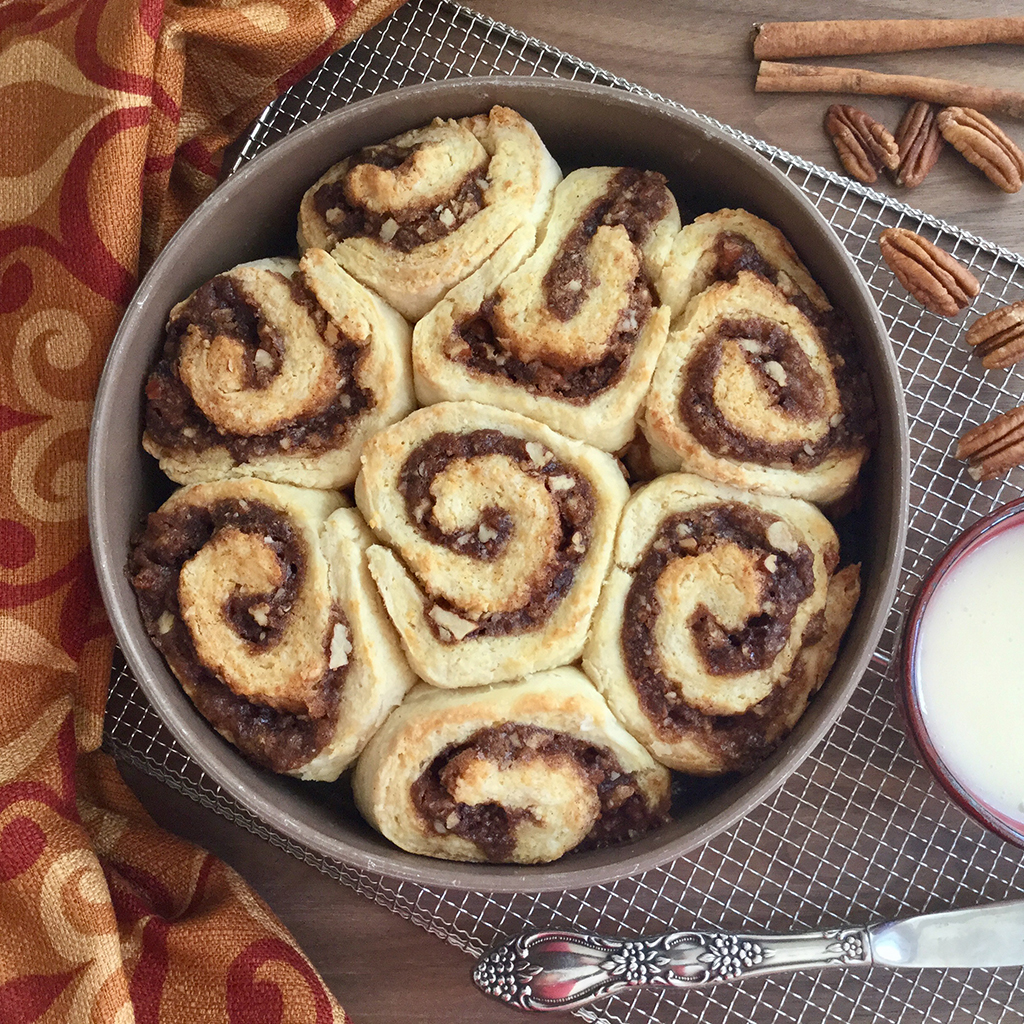 Cinnamon Biscuit Rolls
2017-09-14 09:01:31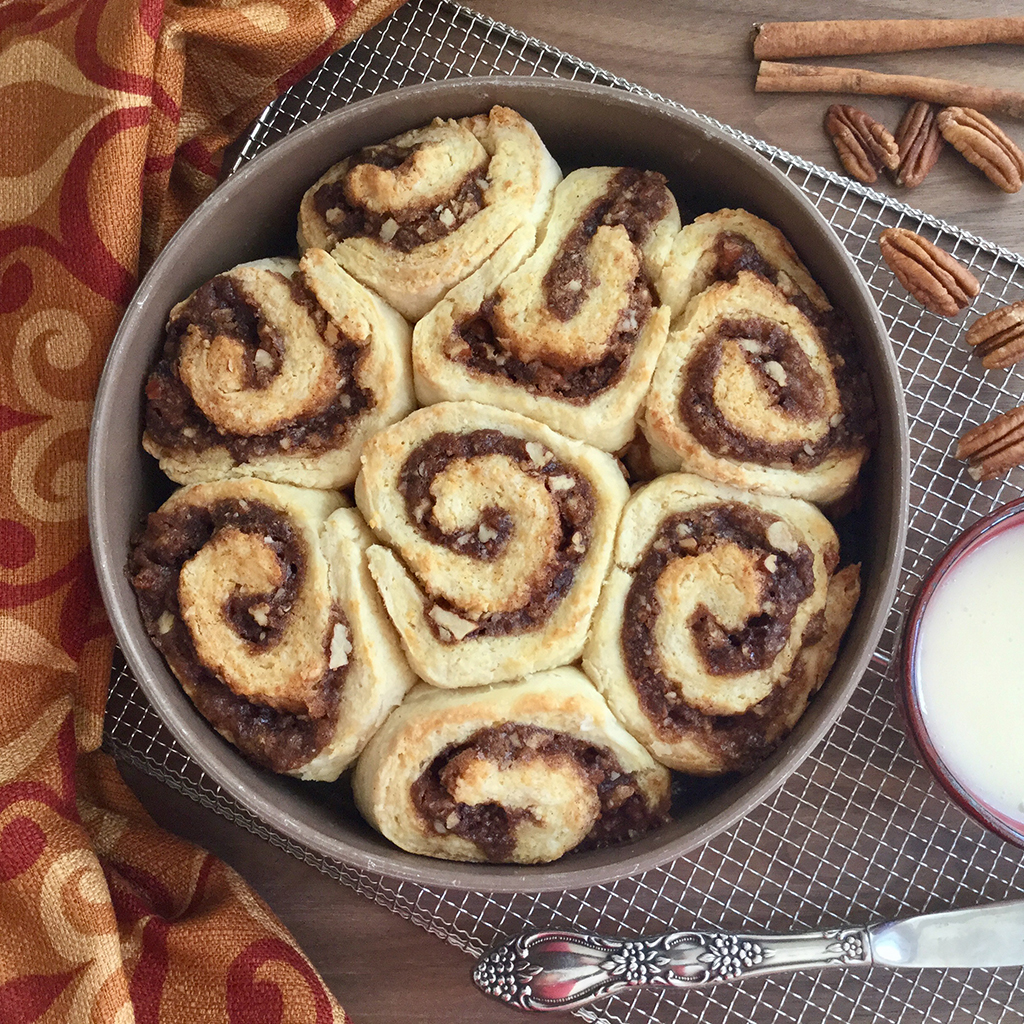 Serves 8
Cinnamon Filling
¾ cup lightly packed brown sugar
¼ cup granulated sugar
3 teaspoons cinnamon
½ cup pecans, roughly chopped
1 tablespoon butter, melted (plus more butter for rolls – see below)
Biscuit Rolls
2 ¼ cups all purpose flour (plus up to ¼ cup more for kneading)
2 tablespoons granulated sugar
1 tablespoon baking powder
½ teaspoon baking soda
½ teaspoon salt
1 cup buttermilk, at room temperature
6 tablespoons butter, melted (divided into 3 portions of 2 tablespoons each)
Cream Cheese-Infused Icing
2 tablespoons cream cheese
3 tablespoons milk
1 teaspoon pure vanilla extract
1 cup icing sugar
Instructions
Preheat oven to 375 degrees F. Generously grease a 9" round baking pan and line the bottom with a piece of parchment paper.
For the cinnamon filling
In a small bowl mix brown sugar and ¼ cup granulated sugar, cinnamon, pecans and 1 tablespoon melted butter. Combine until the mixture resembles wet sand. Set aside.
For the biscuit rolls
In a large bowl mix together 2 ¼ cups flour, 2 tablespoons granulated sugar, baking powder, baking soda and salt. In a separate bowl, whisk buttermilk and 2 tablespoons of the melted butter.
Add buttermilk mixture into flour mixture and stir until all the flour is absorbed. The dough will be damp and shaggy. Turn the dough onto a floured work surface and knead while sprinkling with additional ¼ cup flour, as needed, until smooth. The dough should become soft and less sticky.
With a floured rolling pin, roll the dough roughly into a 9" x 12" rectangle with the 12" side in front of you. Brush the rectangle with 2 tablespoons of the melted butter. Sprinkle evenly with cinnamon filling, leaving a ½" border around all sides. Lightly press the filling into the dough. Starting at the 12" wide side, roll up the dough, away from you, pressing lightly to form a 12" wide log. Loosen the dough from the surface with a scraper or spatula as you roll if necessary.
With a serrated knife, slice the roll into 8 equal pieces. Lift pieces gently, placing each spiral side down, into the prepared pan. The rolls may be slightly butting each other. Brush tops generously with the remaining 2 tablespoons melted butter, allowing some to drip down the sides.
Bake until the edges are golden brown, 22 - 25 minutes. Remove from oven and let cool for 5 minutes in the pan. Carefully turn out the rolls in one piece (they should all be butted and stuck together) onto a wire rack and let cool for 10 minutes more.
For the cream cheese-infused icing
Into a medium microwaveable bowl, add the cream cheese and milk. Place in microwave for 30 seconds at a time, up to 1 minute, until the cheese has melted. Whisk until smooth. Add the vanilla and icing sugar and stir until completely smooth and creamy.
Gently tear the buns apart to separate and serve. Drizzle or slather each warm roll with the cream cheese-infused icing, allowing some to drip down the sides
The Kitchen Fairy http://www.kitchenfairy.ca/