There's nothing better than getting your hands on local sweet bell peppers. Whenever I lay eyes on those plump red and yellow bell peppers at my farmers market, I can't imagine them being turned into anything else except for these healthy vegetarian stuffed peppers.
My youngest (vegetarian) daughter is home visiting from her teaching job in London, England. She loves this vegetarian stuffed peppers recipe. It's an understatement when I say they are absolutely gorgeous and look so appealing when presented on a plate. It's like serving the colours of the rainbow and they are almost too pretty to eat. But we do eat them!
My daughter also makes this recipe in her pint sized kitchen in her London flat. They're a quick weeknight dinner and are sure to impress her flatmates. She appreciates how lucky she is to have a mom that develops such fabulous easy-to-prepare vegetarian recipes, and I appreciate a daughter who likes to cook and eat healthy!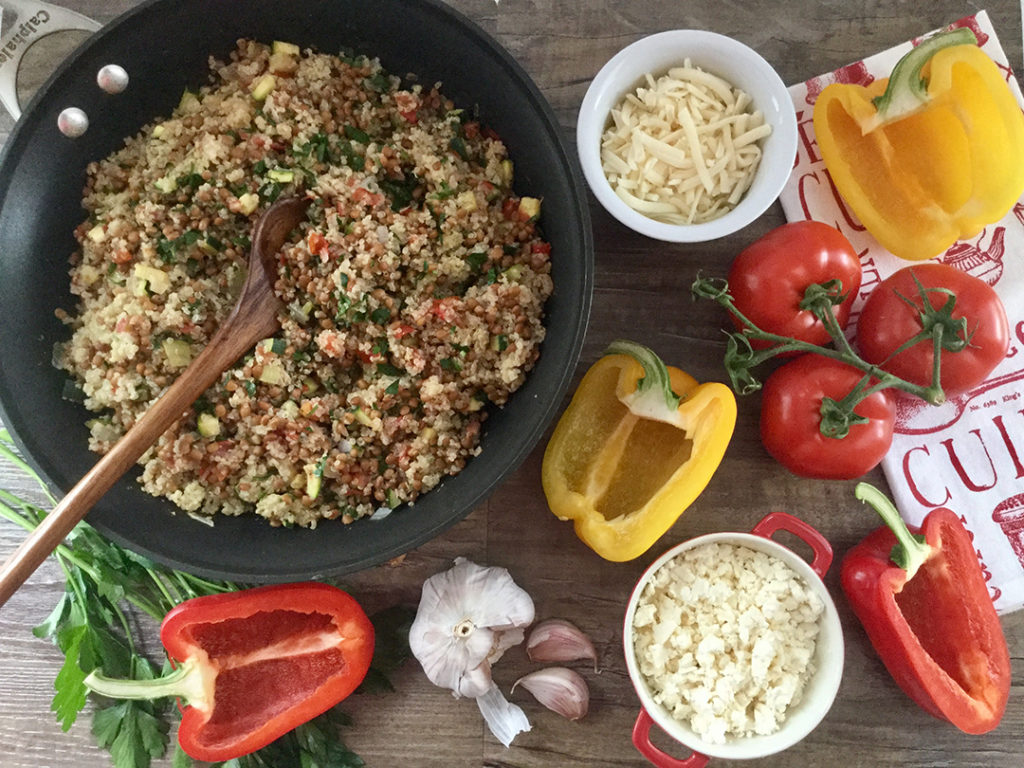 Speaking of vegetarian recipes, check back in the fall for my "vegetarian round-up" where I will feature dozens of mouth-watering recipes.
Tasty, delicious and colourful with a Mediterranean flair, everyone, even non-vegetarians, will enjoy these stuffed peppers. Stuffed with sautéed onions, garlic, zucchini, tomatoes, quinoa, lentils and cheese then topped with even more cheese just before baking. A perfect nutritious protein-rich balanced meal.
You can easily make these peppers in advance. After assembling the peppers in the baking dish, refrigerate and bake them later in the day or the next day when needed. Just add 10 minutes more to the baking time if making in advance. What a time-saver!
To round off this meal, and in keeping with the Mediterranean theme, serve the stuffed peppers with a great big bowl of my Greek Salad.
Quinoa & Lentil Stuffed Peppers
2017-08-11 19:56:48
Serves 4
Ingredients
½ cup quinoa
1 cup water
1 tablespoon olive oil
1 ½ cups diced onion (about 1 medium)
2 garlic cloves, minced
1 ½ cups diced zucchini (about 1 medium)
2 Roma tomatoes, seeded and diced
1 teaspoon dried oregano
1 teaspoon kosher salt
½ teaspoon freshly ground black pepper
¼ cup freshly chopped parsley, plus more for garnish
540mL tin canned lentils, drained and rinsed
1 cup crumbled feta cheese
4 bell peppers, average size (preferably 2 red and 2 yellow)
1 cup shredded mozzarella (for topping)
¼ cup freshly grated Parmesan cheese (for topping)
Instructions
Add quinoa and water into a small saucepan. Cover and bring to a light boil over medium-high heat. Immediately reduce heat to simmer, keep covered and cook for 13 to 15 minutes until all liquid is absorbed. Remove from heat and fluff with a fork. Set aside.
Meanwhile, in a large 12" skillet, heat the olive oil over medium-high heat. Add onion and garlic and cook while stirring occasionally until the onion is tender, about 3 minutes.
Add zucchini, tomatoes, oregano, salt and pepper. Stir to combine and cook for 5 minutes until the tomatoes soften. Stir in parsley, cooked quinoa and lentils.
Remove skillet from heat, let mixture cool for 10 minutes then stir in the feta cheese.
Meanwhile, preheat oven to 375 degrees F. Prepare a 9 x 13" baking dish by lightly greasing the bottom and sides.
Wash and dry the peppers. Cut them in half vertically through the stem so each half will have half of the stem in tact (this is really nice for presentation). Remove seeds and membranes taking care to leave the stems intact.
Arrange the peppers in the prepared baking dish cut side up. Fill each pepper with the warm filling pressing it firmly and piling it into mounds. Sprinkle tops evenly with mozzarella and Parmesan cheeses
Bake uncovered for 40 - 45 minutes until the cheese topping is melted and lightly golden and the peppers have become tender. Remove from oven and garnish with additional chopped parsley.
The Kitchen Fairy http://www.kitchenfairy.ca/