Super moist and tangy, this loaf is bursting with plump juicy blueberries and loads of citrus flavour. Dressed up with a zesty lemon glaze, it's perfect for breakfast, snack or afternoon tea. It's also easy to bring this along to a friend or family's house, or a bake sale.
When you put lemon and blueberries together, delicious things happen! Once this loaf is baked and sliced, you can see beautiful purple gems of blueberries exploding throughout the yellow lemon batter.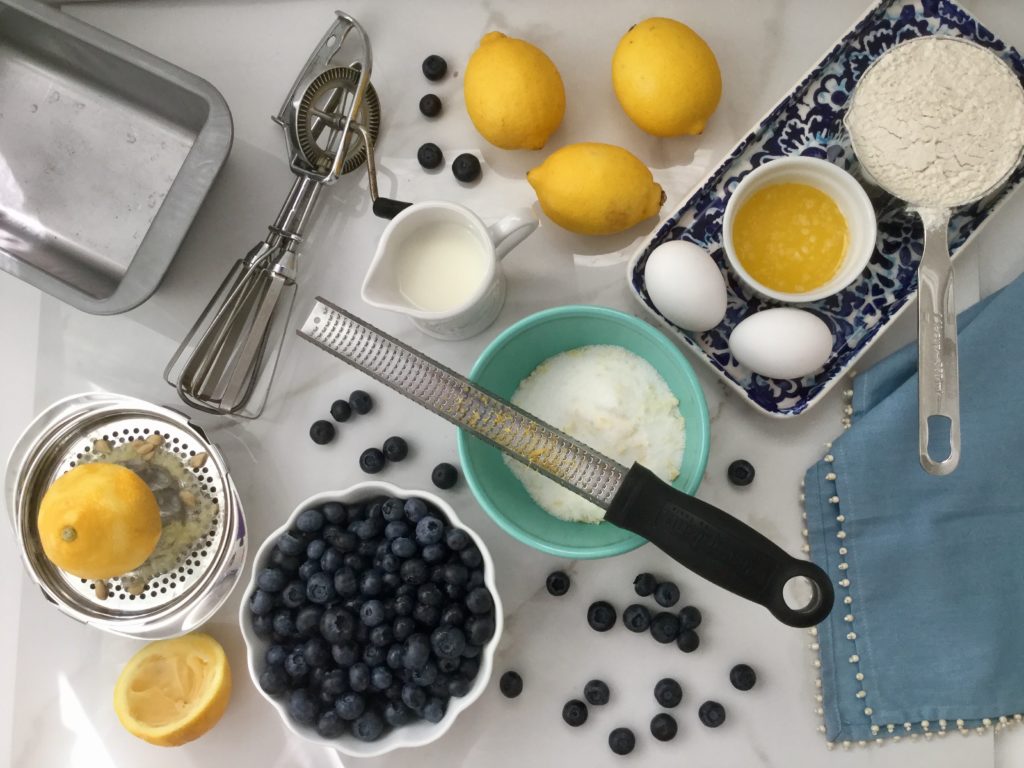 Blueberry season in Canada typically runs from early July to August. We must get our fill while an abundance of these local blueberries are still available! Blueberries are a superfood, naturally low in calories, very nutritious and are know to be a powerful source of antioxidants. Best of all, they're sweet, juicy and perfect for baking.
Every summer when I bake blueberry desserts, it brings back wonderful memories of blueberry picking at local farms with my daughters when they were young. When the girls were little, I would take them blueberry picking and I used to lose sight of them in the bushes. I couldn't see what they were up to – eating so many blueberries that their hands, mouths, and clothes would all be stained purple by the end of the day! Now I usually just pick up fresh local blueberries at my local farmers market.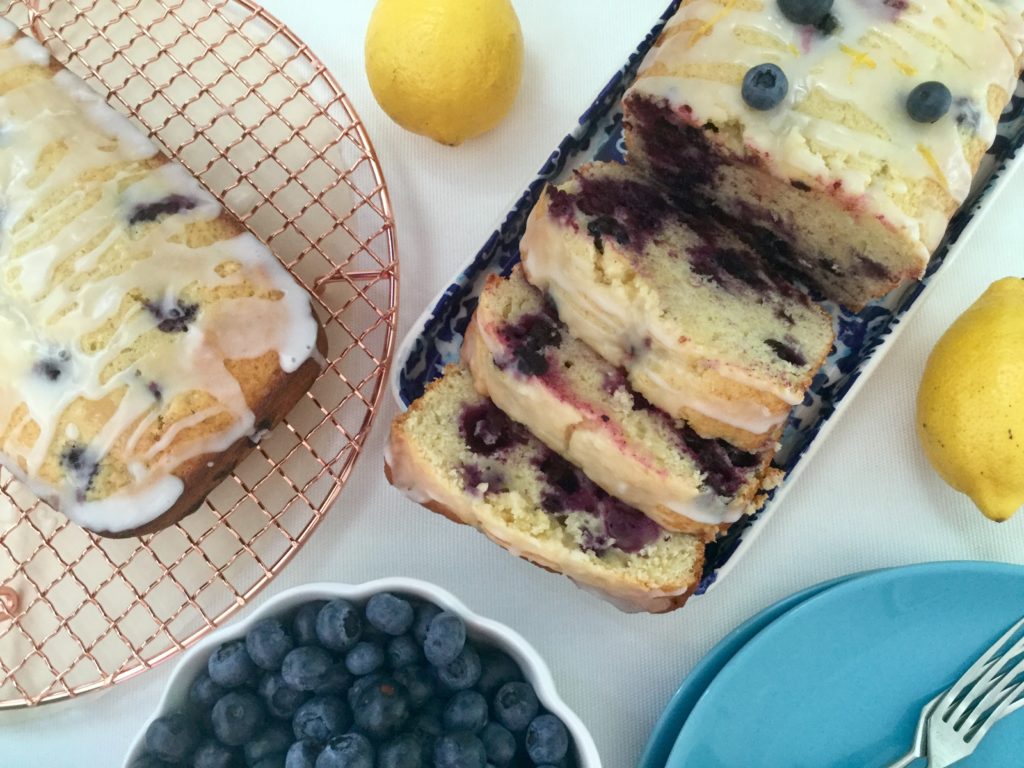 Coating the blueberries with flour just before adding them to the batter helps prevent them from sinking to the bottom of the loaf during baking. I prefer to use fresh blueberries, but if you're using the frozen blueberry option, they are softer when thawed so keep them frozen until the last minute. And also be gentle when folding them in.
You will need at least 2 lemons, both zested and juiced for this recipe, one for the loaf and one for the glaze.
For something so gorgeous, you will be surprised how quick and easy it is to whip up with no mixer required. Consider doubling the recipe to make 2 loaves at the same time. I do that because one loaf doesn't go very far in my family!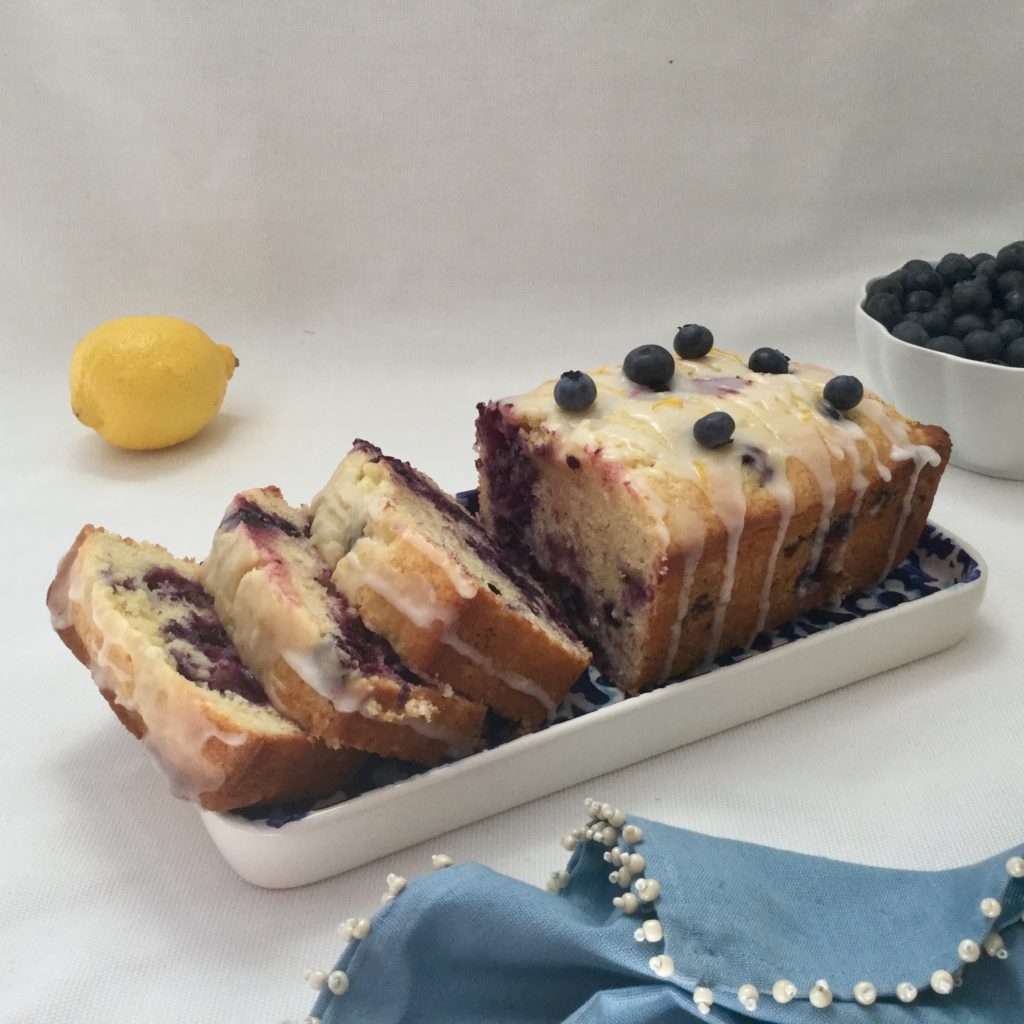 Lemon Blueberry Loaf
2017-08-21 18:16:29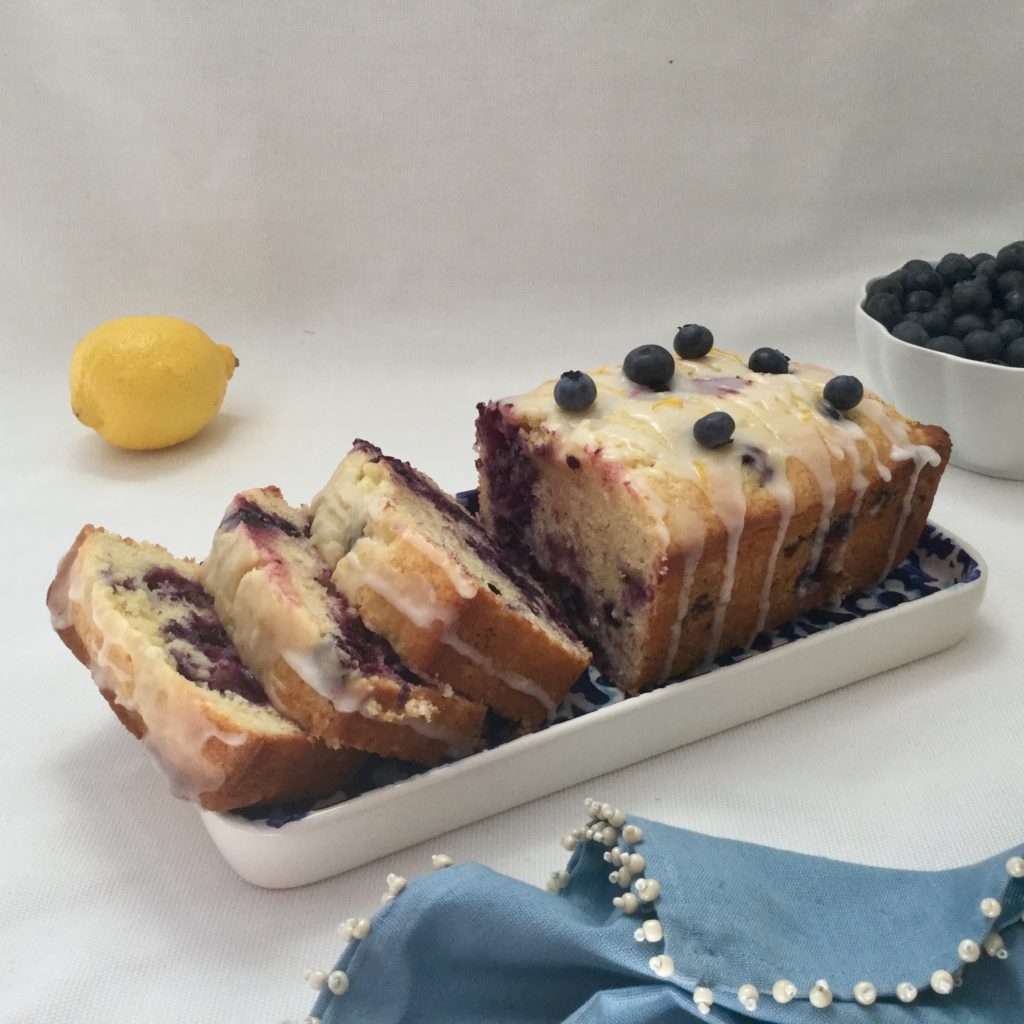 Serves 8
Ingredients
¾ cup granulated sugar
1 lemon, zested
1/3 cup butter, melted and cooled slightly
2 eggs, at room temperature
2 tablespoons freshly squeezed lemon juice
½ cup milk
1 ½ cups all purpose flour, plus an extra 1 tablespoon more for coating blueberries
1 ½ teaspoons baking powder
1 teaspoon salt
1 heaping cup fresh or frozen blueberries
Lemon Glaze & Garnish
¾ cup icing sugar
2 tablespoons freshly squeezed lemon juice
1 teaspoon lemon zest, for garnish
Blueberries, for garnish
Instructions
Preheat oven to 350 degrees F. Prepare a standard loaf pan by greasing the bottom and sides with butter or cooking spray.
In a small bowl stir together the granulated sugar and lemon zest to infuse the sugar with lemon flavour.
In a large mixing bowl whisk together the butter and infused sugar. Whisk in the eggs then the lemon juice and milk.
In a medium bowl mix together 1½ cups flour, baking powder and salt. Add the dry ingredients to the wet ingredients in the large mixing bowl. With a spatula, lightly stir just until combined.
In a small bowl combine the blueberries with 1 tablespoon flour. Gently fold almost all of the coated blueberries into the batter saving just a few to press into the top of the batter.
Bake for 55 – 60 minutes until lightly golden and a toothpick inserted comes out clean. Cool for 15 - 20 minutes in the pan then transfer to a wire rack to cool completely.
Meanwhile, prepare the glaze. Mix the icing sugar and lemon juice in a small bowl until smooth. Drizzle icing over the top of the cooled loaf allowing some to dribble down the sides. Garnish the loaf with lemon zest and fresh blueberries.
The Kitchen Fairy http://www.kitchenfairy.ca/