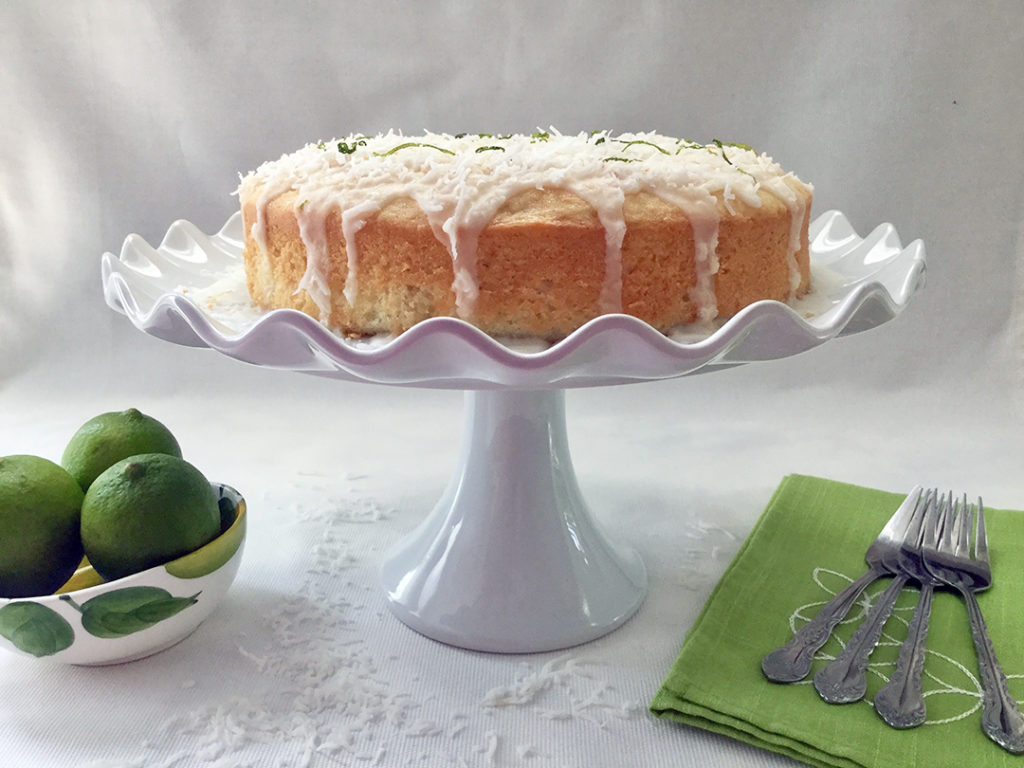 Is there anything better than coconut and citrus?
Celebrate the end of summer with this decadent coconut and key lime cake. Labour Day is here, marking the end of summer and the beginning of back-to-school routines. But you don't have to give up those summer flavours just yet! Every sweet, crumbly, coconut-y bite of this cake will make you feel like you're partying in the tropics.
The cake is packed with shredded coconut, coconut milk, infused with lime, and topped with a zesty lime glaze and then sprinkled with even more coconut! Lime makes it bright and fresh, coconut milk keeps it moist and shredded coconut lends plenty of texture. Every slice is so sweet, sticky and scrumptious. Just look how beautiful it looks with the zesty lime glaze dribbling down the sides of the cake and pooling up on the platter.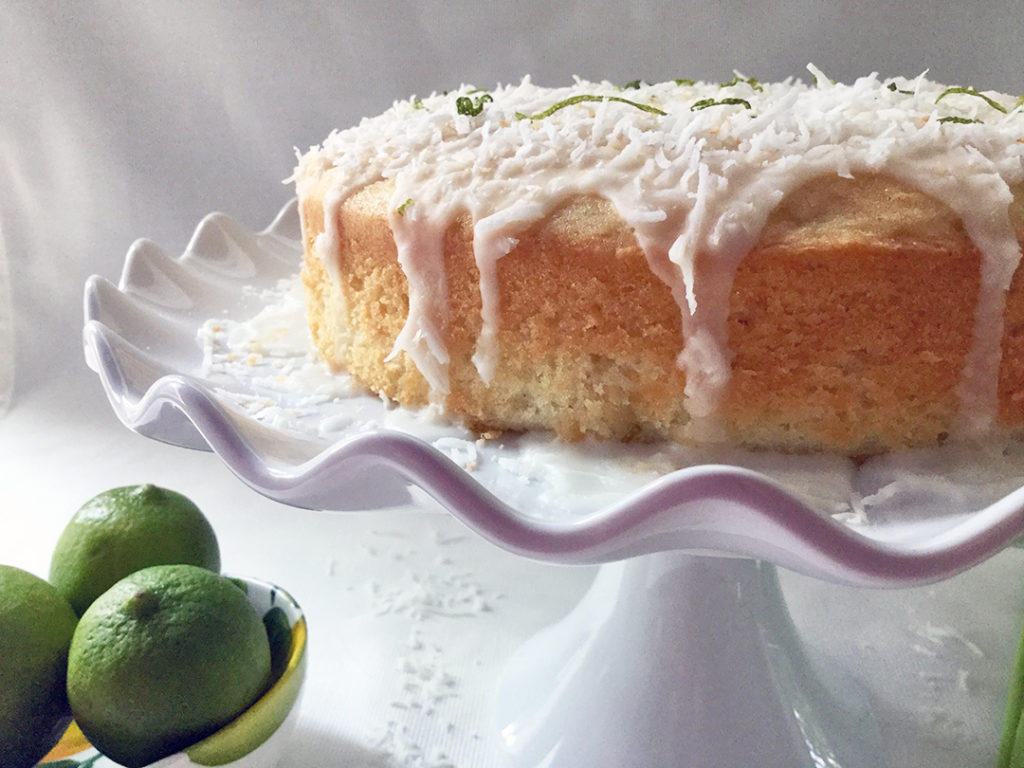 You won't believe how simple and easy it is to make this cake with so few ingredients. You can whip it up quickly and even make it a day ahead, which makes entertaining a breeze!
You will need about 3 – 4 limes (depending on size) for the cake and garnish. Only 1 cup of coconut milk from the 400mL tin is needed. Refrigerate the remainder and use it up by adding some coconut goodness to your morning smoothies.
If making the cake ahead of time, cover with a dome and refrigerate. For best results bring the cake to room temperature (for about 1 hour or more) before serving.
Happy Labour Day!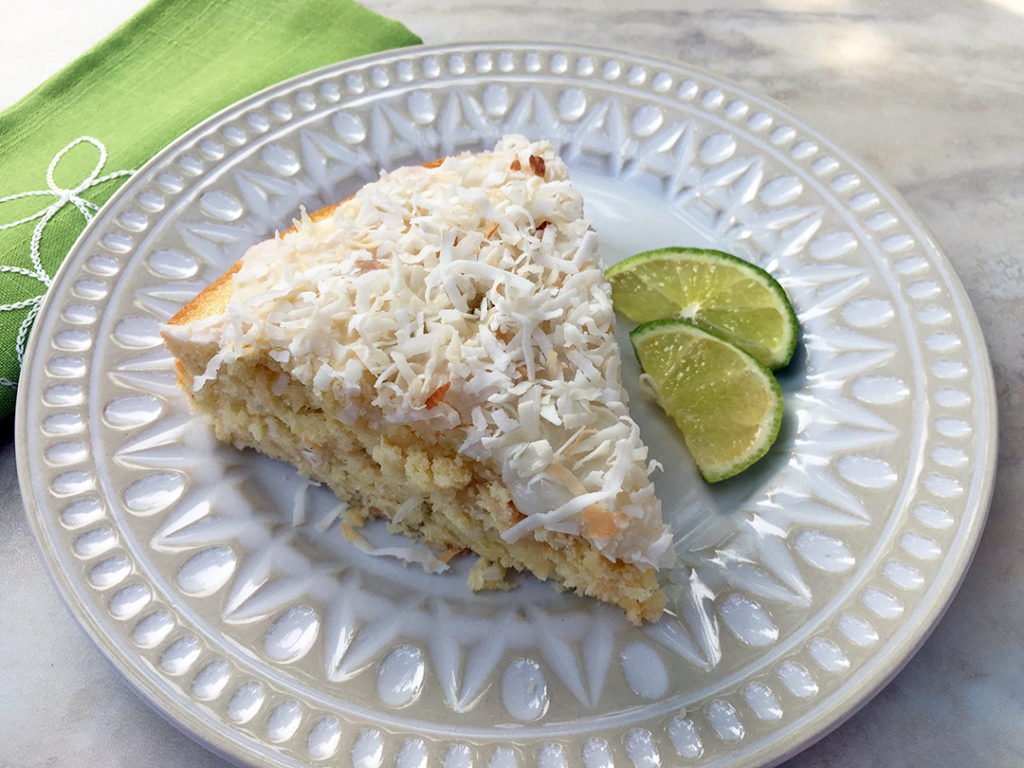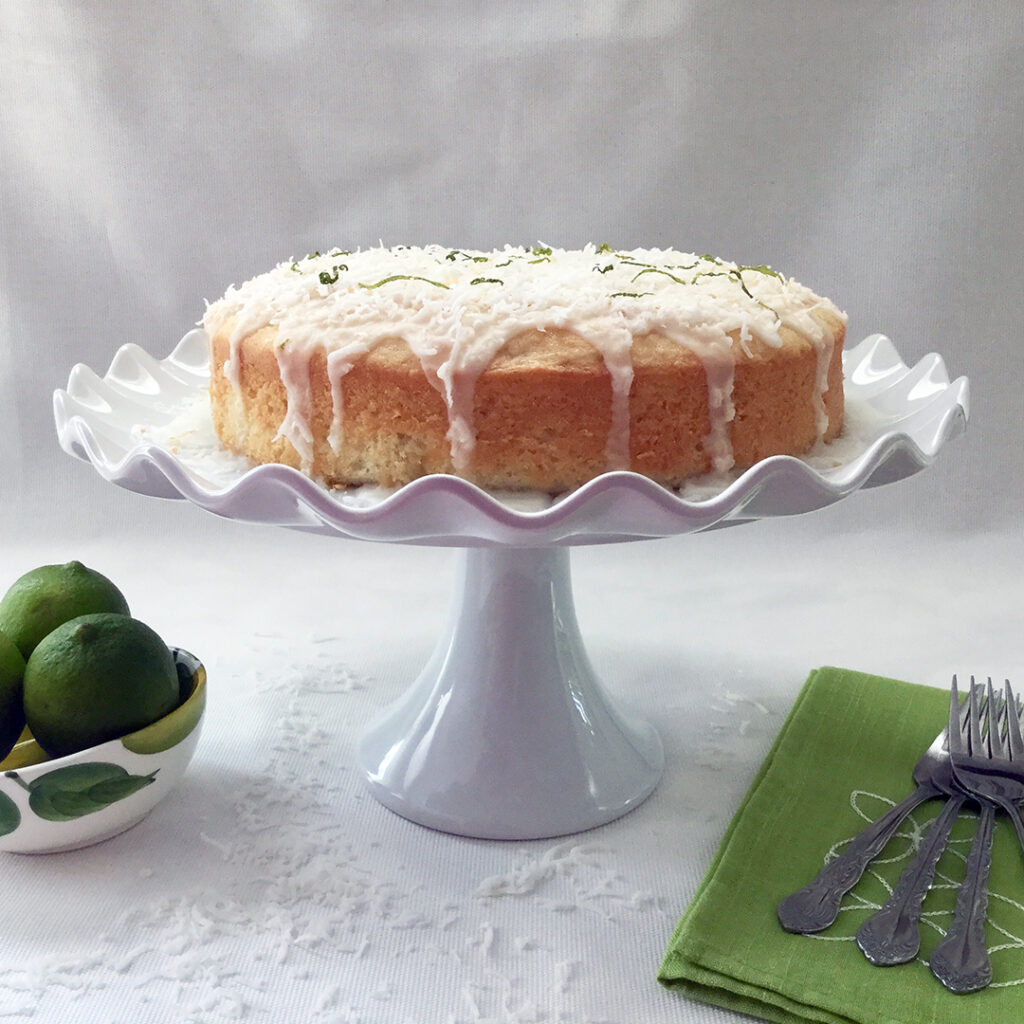 Coconut & Key Lime Cake
2017-08-27 16:46:35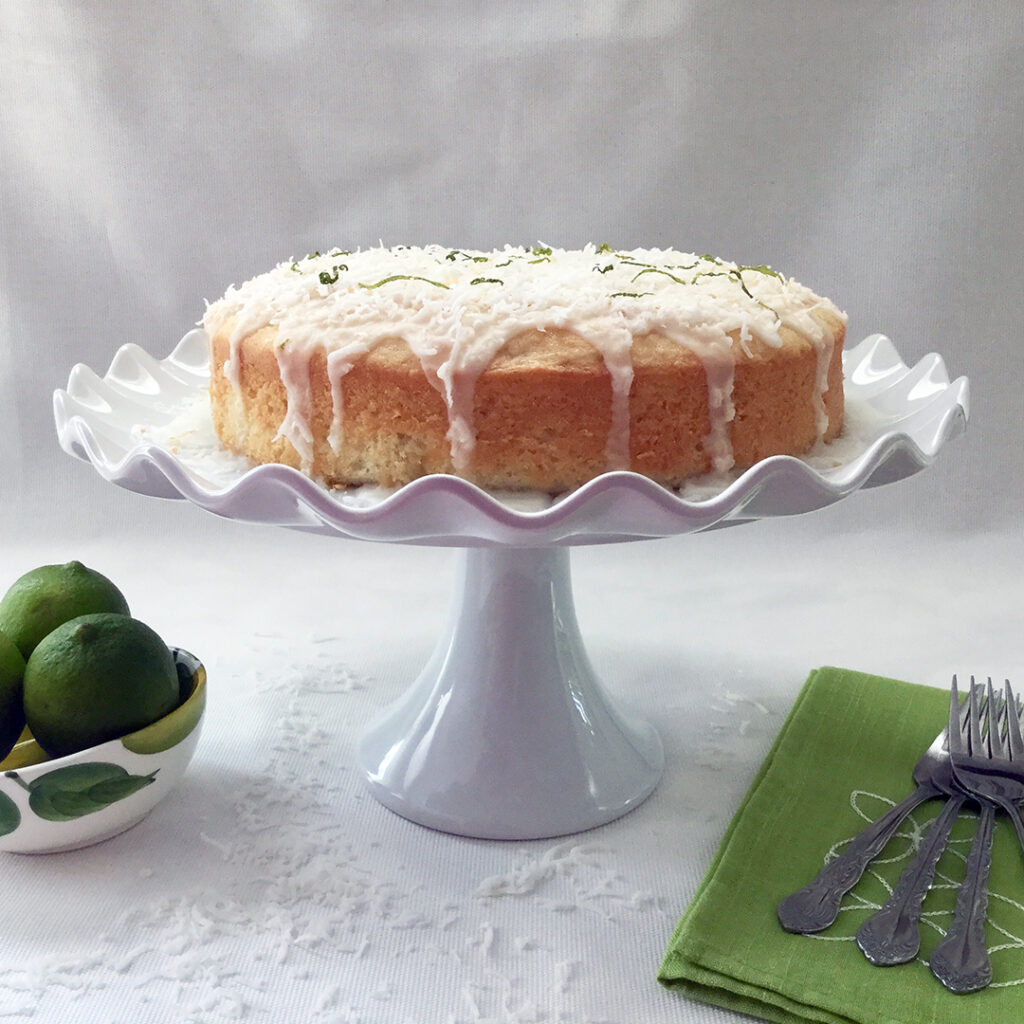 Serves 8
Ingredients
1 cup unsweetened shredded coconut, toasted, divided ½ cup each for cake and for garnish
1 cup granulated sugar
2 limes, zested
4 tablespoons (¼ cup) freshly squeezed lime juice, divided 2 tablespoons each for cake and for lime glaze
½ cup (1 stick) butter, softened to room temperature
2 eggs, at room temperature
1 cup coconut milk (from a 400mL tin)
2 cups all purpose flour
2 teaspoons baking powder
Lime Glaze & Garnish
1 cup icing sugar
Reserved 2 tablespoons freshly squeezed lime juice (see above)
Reserved ½ cup toasted coconut (see above)
Lime zest and lime slices, for garnish, as desired
Instructions
Preheat oven to 350 degrees F. Generously butter a 9" round cake pan. Line the bottom of the pan with a piece of parchment paper.
Toast the coconut in a 12" skillet over medium heat. Shake the pan constantly until the coconut is toasted to a light golden colour. Do not leave unattended as coconut burns easily. Immediately transfer the coconut to a plate to cool. Divide coconut evenly into two ½ cup portions. You will need ½ cup for the cake batter and the other ½ cup set aside for the garnish.
Add the granulated sugar into a small bowl. Zest two limes dropping the zest right into the bowl with the sugar. Stir to combine to infuse the sugar with lime flavour. Set aside while preparing the other ingredients.
Juice limes to get 4 tablespoons (¼ cup). You will need 2 tablespoons for the cake batter and the other 2 tablespoons set aside for the lime glaze.
With an electric mixer on medium speed, beat butter and lime infused sugar until fluffy. Beat in eggs one at a time. Beat in 2 tablespoons of the lime juice.
In a medium bowl stir together flour, baking powder and ½ cup of the toasted coconut.
At low speed, gradually add flour mixture and coconut milk alternately in batches, beginning and ending with flour, beating in between each addition. Batter will be thick.
Spoon batter into prepared pan and smooth the top. Bake until golden and a wooden pick inserted comes out clean, about 40 - 45 minutes. Leave cake in pan and let cool slightly, about 1 hour. Turn cake out of pan and place on a serving platter.
Make the lime glaze; in a small bowl stir together icing sugar and reserved 2 tablespoons lime juice until smooth. Spoon half of the glaze over top of cake, allowing some to drip over the sides. Let the glaze set for 1 - 2 minutes. Spoon remaining glaze over top of cake, allowing more to drip over the sides. Immediately sprinkle the top with reserved ½ cup toasted coconut.
Garnish cake with lime zest and lime slices as desired.
If making ahead, cover cake with a dome and refrigerate. Bring cake to room temperature (for about 1 hour or more) before serving.
The Kitchen Fairy http://www.kitchenfairy.ca/