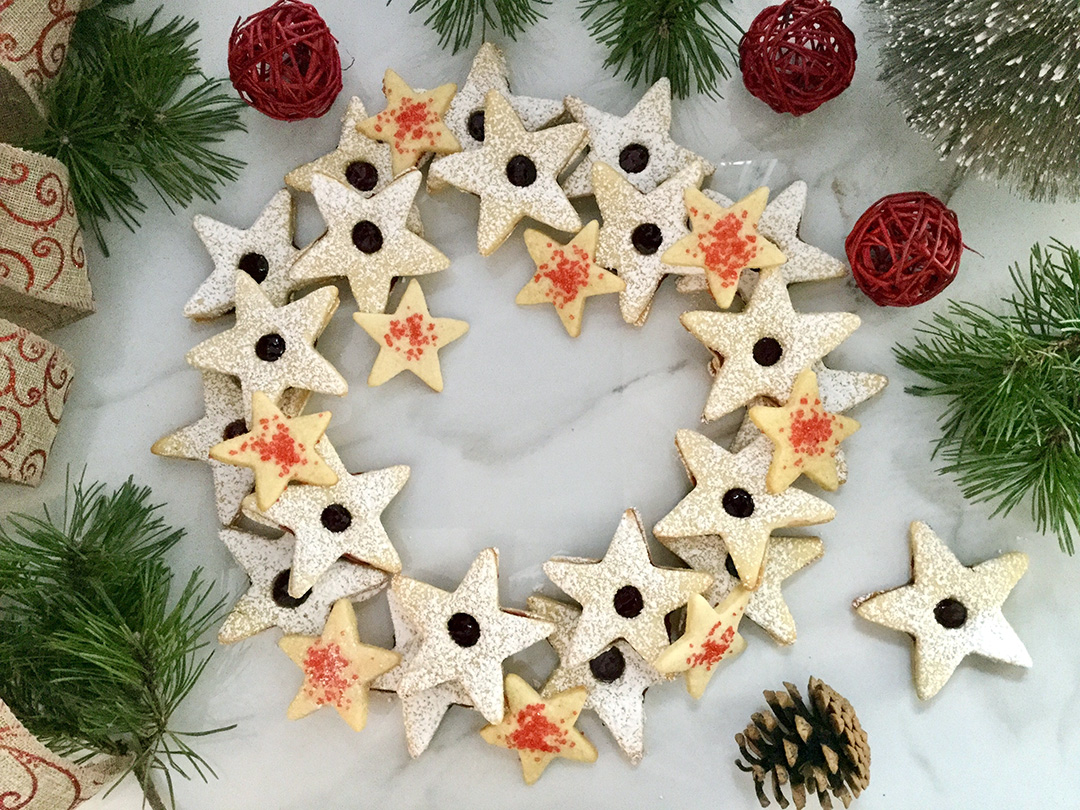 Star-shaped cookies filled with raspberry jam are the perfect treat to sweeten up the festive season. They make a delightful addition to any cookie tray or for a cookie exchange. This will be the cookie that everyone reaches for first!
Jewel-like raspberry jam is sandwiched between two moist and chewy vanilla-scented buttery cookies. A sprinkle of icing sugar makes the cookies even prettier adding a little glitter and more sweetness.
These cut-out cookies have been a Christmas tradition in our family for a really long time. They're always included in the cookie loot bags that family and guests take home after our Christmas gathering. When my daughters come home for Christmas they immediately look for these cookies. Somehow they quickly disappear well before Christmas (the cookies disappear not the daughters). This requires us to get out the rolling pin and bake more for our cookie trays and loot bags!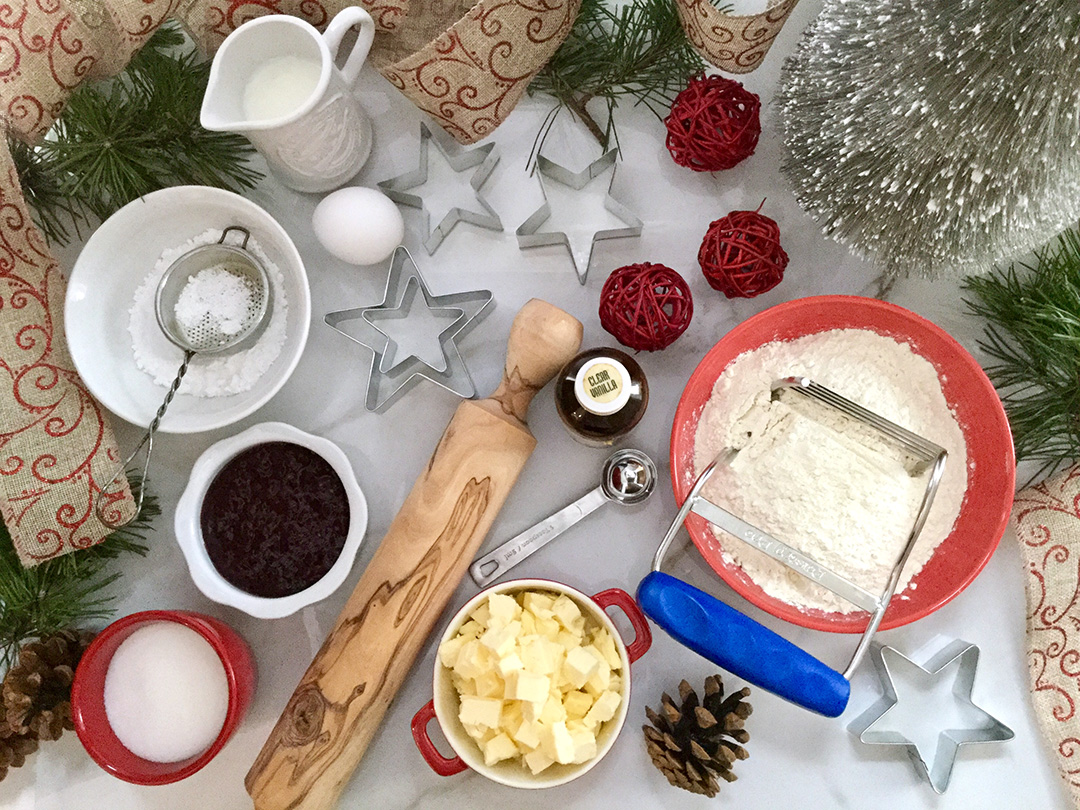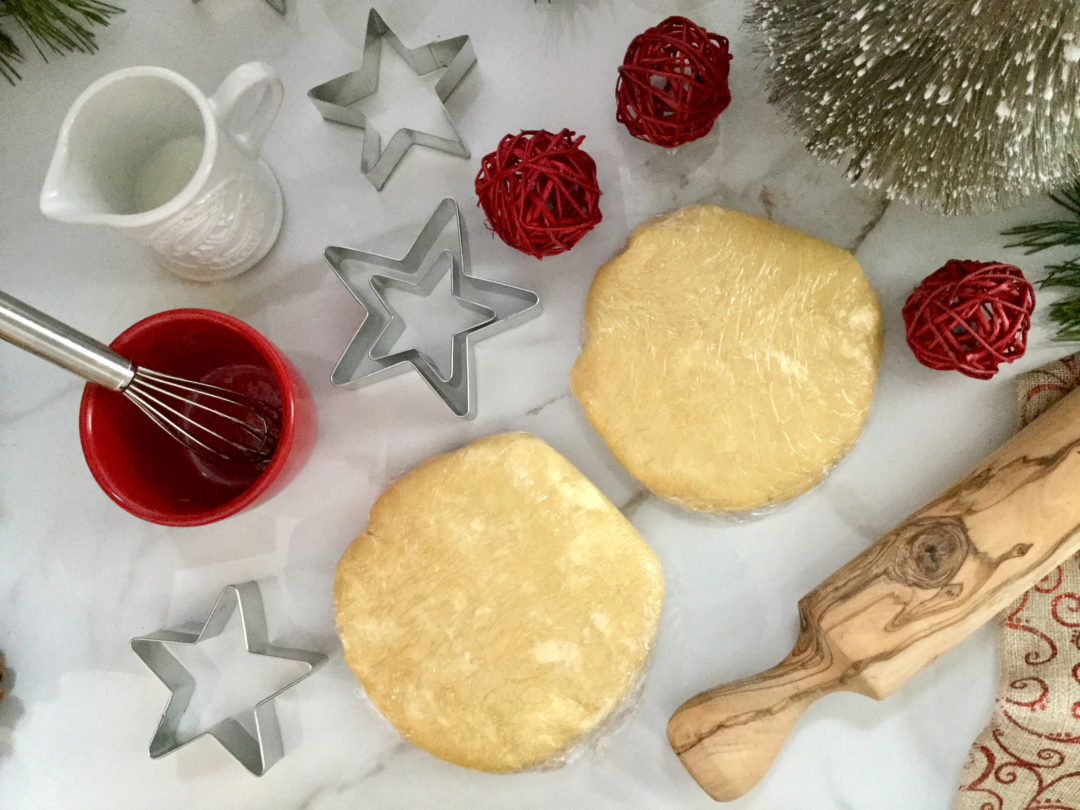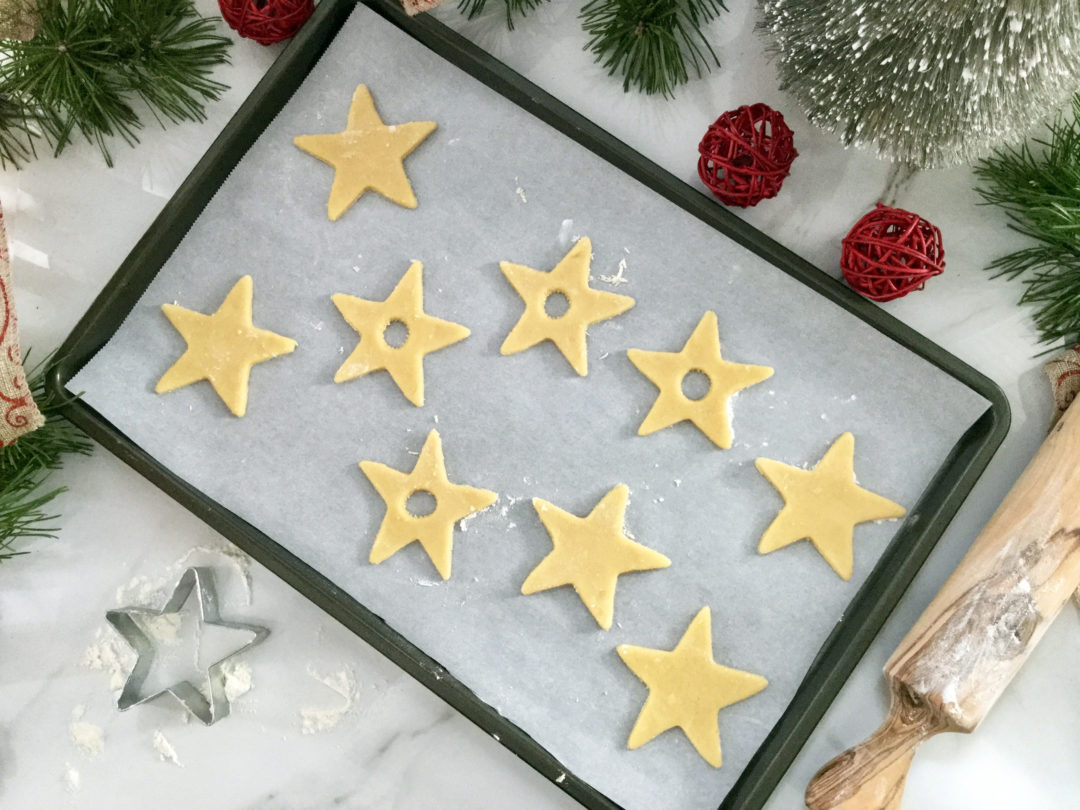 While star-shaped cookies are ideal for the Christmas season, these cookies are so versatile you can make many other shapes and use other flavours of jam as well. Think heart-shaped cookies for Valentine's Day or flower shaped cookies with apricot jam or lemon curd for Easter or springtime. The possibilities are endless!
The dough can be made ahead and stored in the refrigerator. Take the dough out of the refrigerator for 10 – 15 minutes before rolling in order for it to soften slightly. The dough should be firm but not too hard.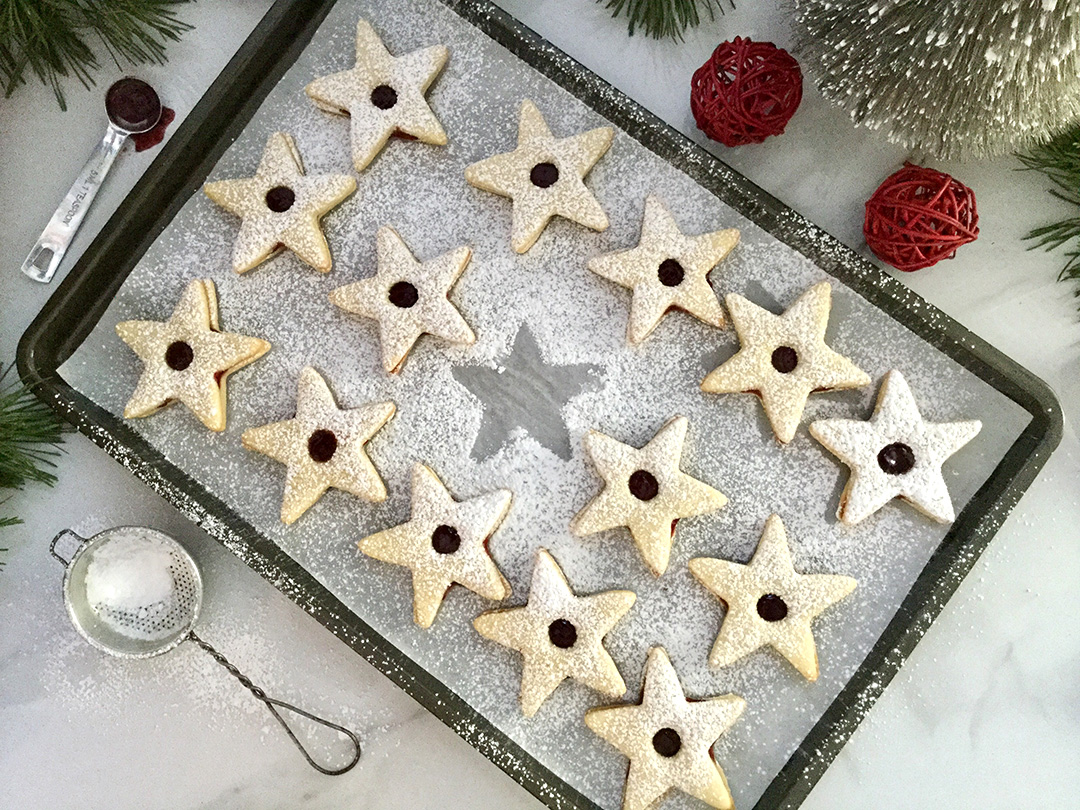 Since these are sandwich cookies, you need to cut two equal shapes for each cookie. For half of the shapes cut out a hole in the centre (an apple corer is just the right size for the hole). The cookies with the hole will be the top of the sandwich cookie exposing some of the jam.
To accent the display of the cookies I like to use the last bit of re-rolled dough to cut out complimenting small shapes. These mini cookies make great little impulsive snacks. The mini shapes bake a little quicker than the large cut-outs so be sure and bake them separately and reduce the baking time slightly. But making mini cookies is totally optional.
For best results store the cookies in an airtight container for at least 12 – 24 hours before serving. This allows the cookies to soften and you will really notice a difference in the taste and texture by doing this.
This recipe yields about 26 – 30 filled cookies, plus about 12 mini cookies, all depending on the size of cookie cutter used and the thickness of the rolled dough.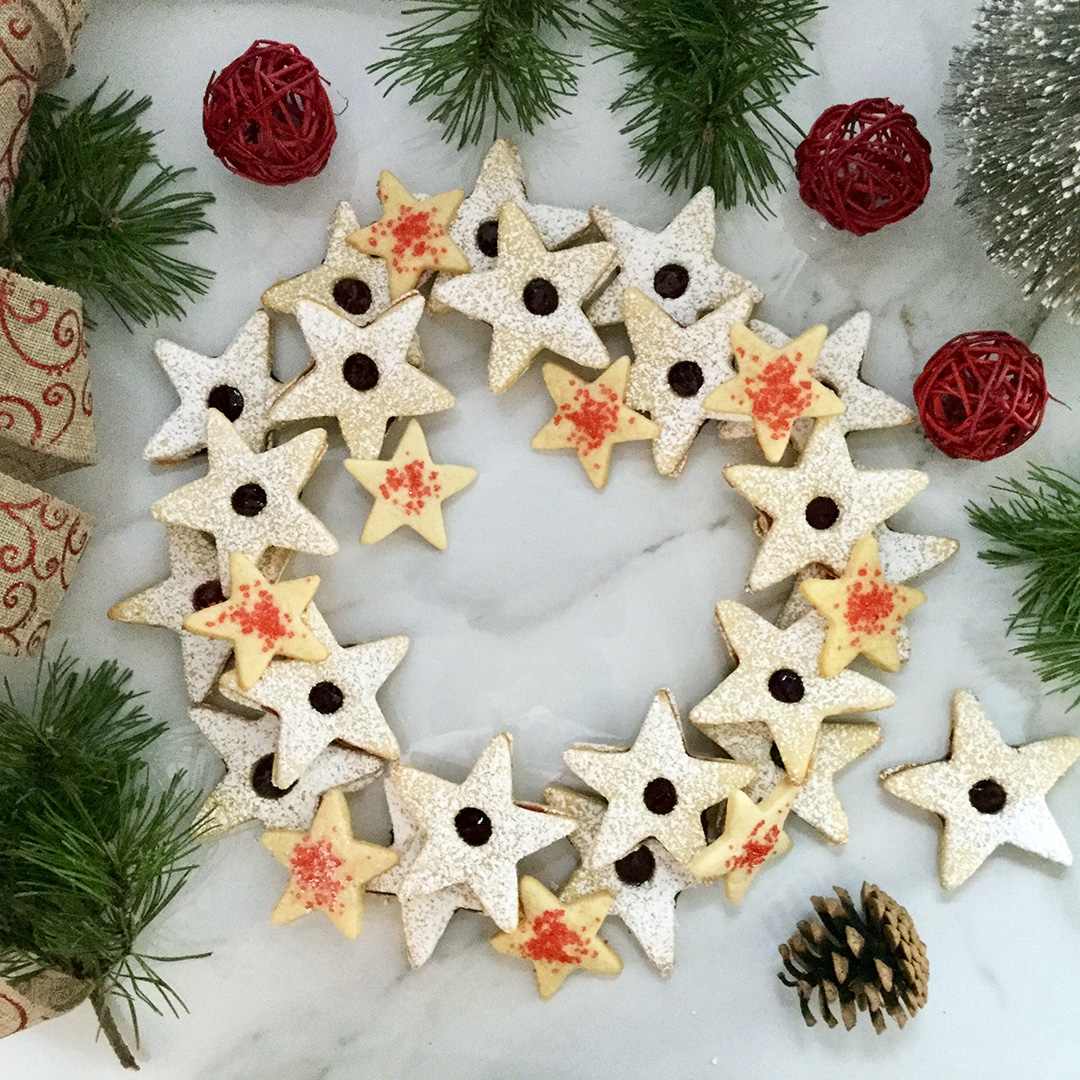 Jam Filled Cut-Out Cookies
2017-12-07 17:35:58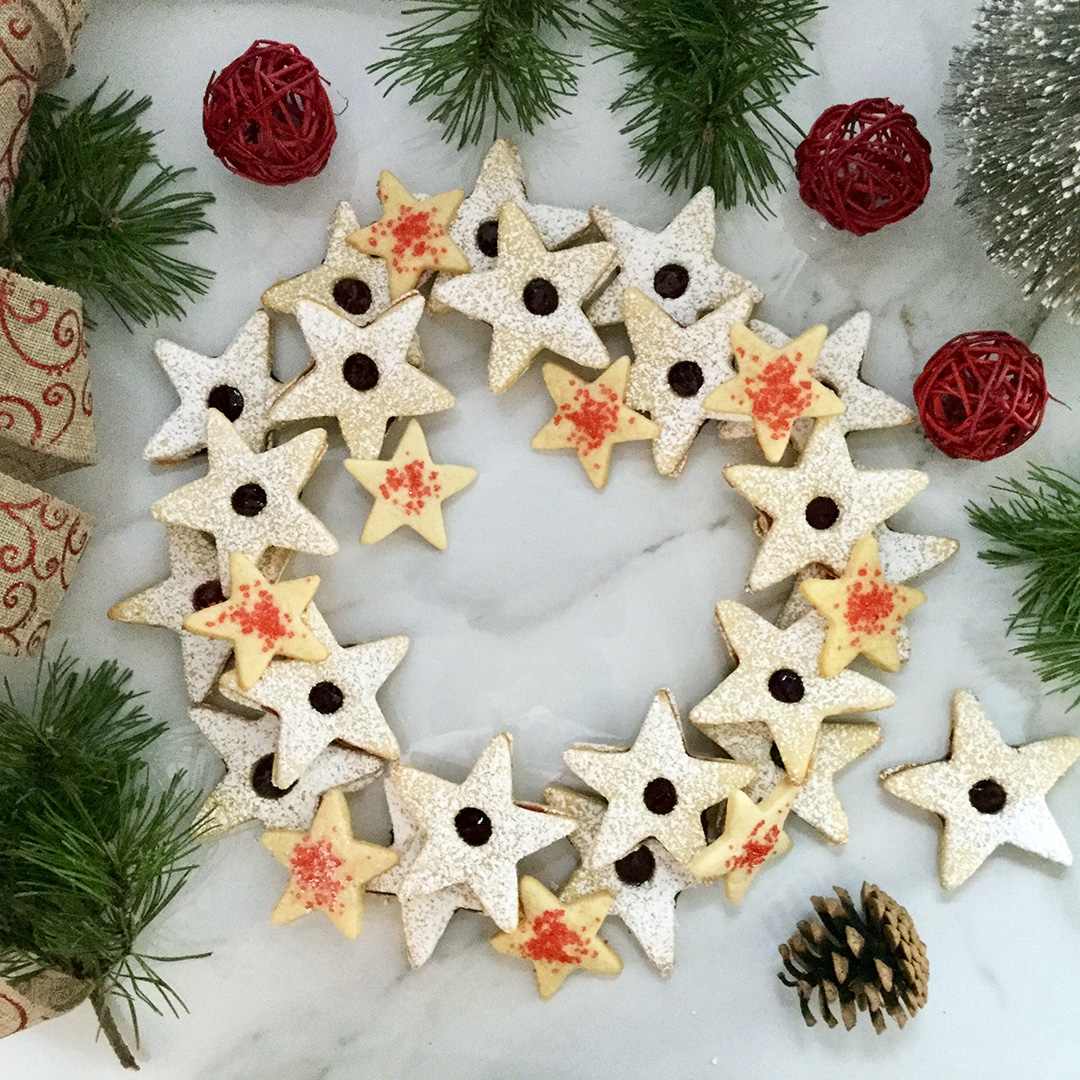 Ingredients
2 ½ cups all purpose flour, plus more for rolling
1 cup granulated sugar
1 cup (2 sticks) cold butter, diced into small cubes
1 egg
1 teaspoon vanilla
¼ cup milk, possibly 1 tablespoon more
½ cup raspberry jam (approximately)
¼ cup icing sugar, for dusting
Instructions
Combine the flour and granulated sugar in a large mixing bowl then sprinkle in the diced butter. With a pastry blender, moving in an up and down and twisting motion cut the mixture multiple times until the mixture is uniform and resembles coarse crumbs.
In a small bowl whisk the egg, vanilla and milk and add it to flour/butter mixture. With a spatula, stir to combine, until a thick ragged dough starts to form. Add 1 tablespoon more milk if necessary.
With floured hands, knead the dough in the bowl until it becomes one uniform clump of dough. Divide the dough into two equal portions, form 2 balls and flatten into 4" – 5" disks. Wrap each disk tightly in plastic wrap and refrigerate for at least 2 hours or overnight.
Bring refrigerated dough to room temperature for 10 – 15 minutes. Meanwhile, preheat oven to 350 degrees F. Prepare 3 large baking sheets by lining with parchment paper.
Lightly flour a clean work surface. Roll out one disk at a time to about 1/8" – 1/6" thickness. While rolling sprinkle the top of dough lightly with more flour as needed.
Cut desired shapes with cookie cutters. For half of the shapes, cut out a small circle hole in the centre (an apple corer is just the right size for the hole). Re-roll the scraps, repeating the process to make more cookies until all the dough is used. If desired, with some of the re-rolled scraps, cut out mini shapes to use as an accent when displaying the cookies (these mini shapes won't be filled).
Transfer the cookies to the prepared baking sheets. If making mini cookies, place them on a separate baking sheet as they will bake a little quicker.
Bake for 8 - 10 minutes (less for mini cookies) to a light golden colour; do not over-brown. Remove from oven and let cookies set on baking sheet for 2 minutes before removing to a rack to cool completely.
To assemble the cookies, spread the "underside" (bottom baked side) of the solid cookies with about ½ teaspoon of jam, spreading almost to the edges. Cover with the cookies with a hole (placing the hole cookies baked side down), taking care to match the cut-out pattern. Press down very lightly.
Transfer filled cookies in one layer to a parchment lined surface. With a sifter or a small sieve, lightly dust the tops with icing sugar. Store cookies in an air-tight container, with sheets of parchment paper between layers, for 12 – 24 hours before serving.
The Kitchen Fairy http://www.kitchenfairy.ca/