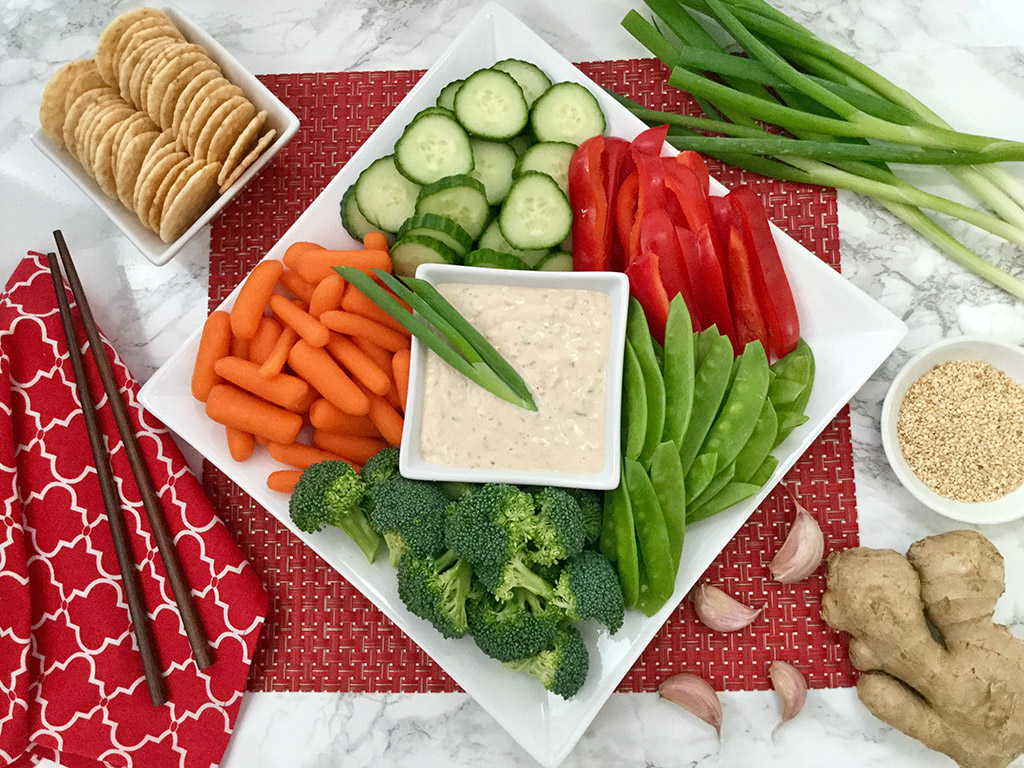 Happy New Year!
I'm reflecting on 2017, the year I started blogging. My life has never been the same since my passion for cooking, developing recipes and photography morphed into this blog. And for this, I have to thank my oldest daughter who works in digital marketing as she designed this food blog for me.
This Asian dip is one of the earliest recipes I ever developed. Although I've made this dip many times for different events over the years, I've kept the recipe to myself and am just now releasing it.
How this dip came to be:
Being involved in the community with a group of young mothers who all had school-aged daughters, I used to host an annual Christmas party with a theme, just for the mothers, to celebrate our friendships with good food and wine.
One year I hosted an Asian theme and I wanted to impress the group of mothers with a dynamite dip. Keeping the Asian theme in mind, I concocted a combination of Asian-inspired ingredients to create a special creamy dip and it turned out to be a huge hit! The dip was a favourite and everyone couldn't stop talking about it.
Now that all of our daughters have grown up and moved on in their lives, a few of these women are still in my life, while I've lost touch with others. I think my New Years resolution will be to attempt to re-connect with some of these old friends and let them know this dip recipe is finally available!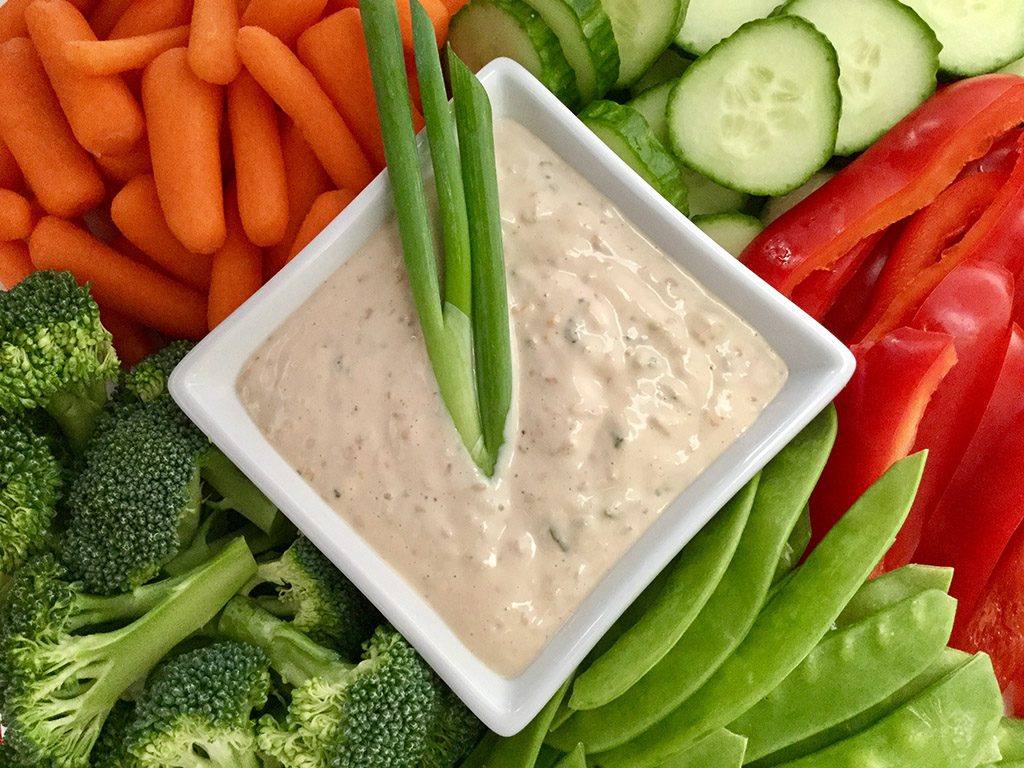 The next time you're hosting a party, you might think it's convenient to just pick up a store-made veggie & dip platter. My advice is to skip the store-bought platter, and instead, try this easy and exceptional homemade Asian Dip which will guarantee a reaction from every one of your guests!
This creamy dip has a subtle infusion of Asian flavours giving it a unique and unexpected twist that compares to no other traditional dips. Dunk a variety of veggies and sesame crackers into this dip and your taste buds will take a walk on the Asian side! This will make everyone happy while they eat their share of crunchy and colourful good-for-you veggies.
What a great dip for the festive season, including New Year's Eve or even for summer parties. Whatever the event or season, everyone is going to fall in love with this dip.
Be sure to allow a few hours or more to let the flavours of the dip meld before serving. This recipe makes 1 cup of dip. Depending on the size of veggie platter you require, you may need to double the recipe.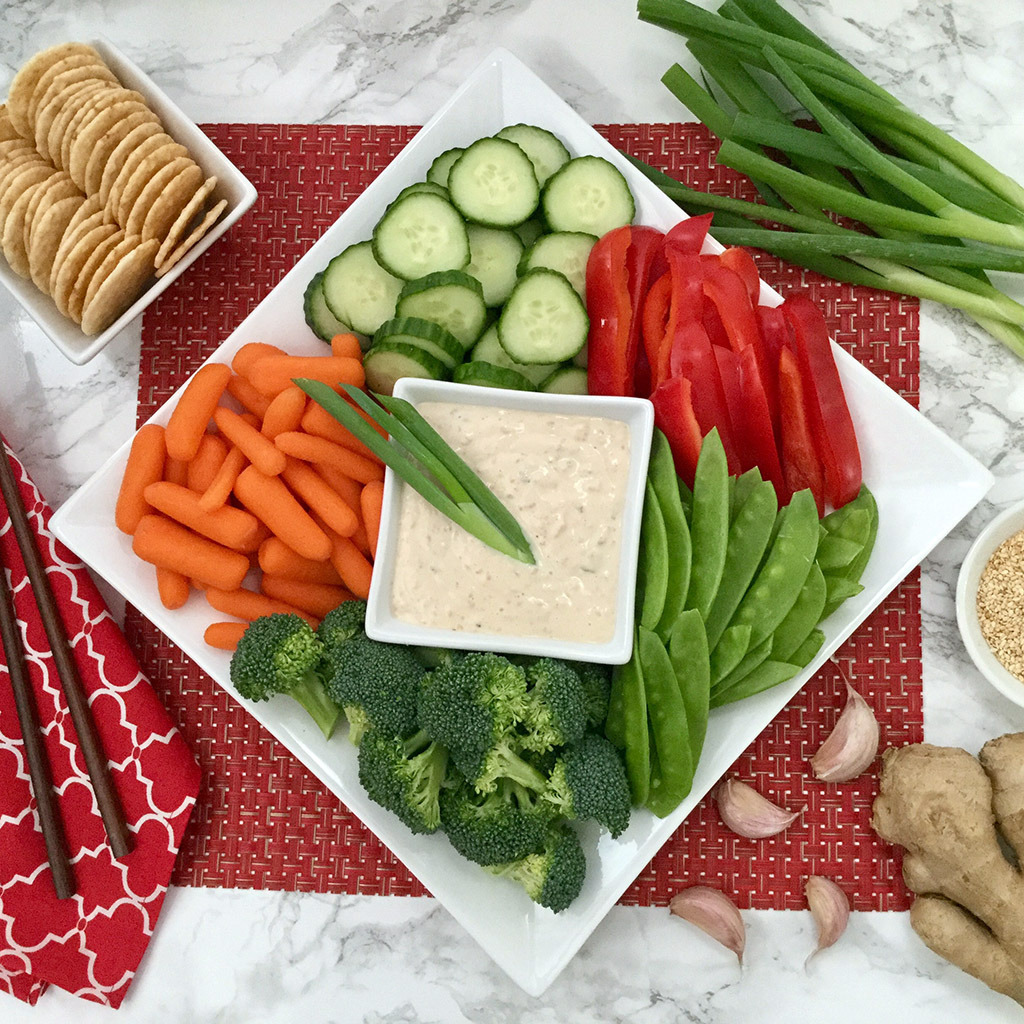 Asian Dip & Veggie Platter
2017-12-19 17:36:48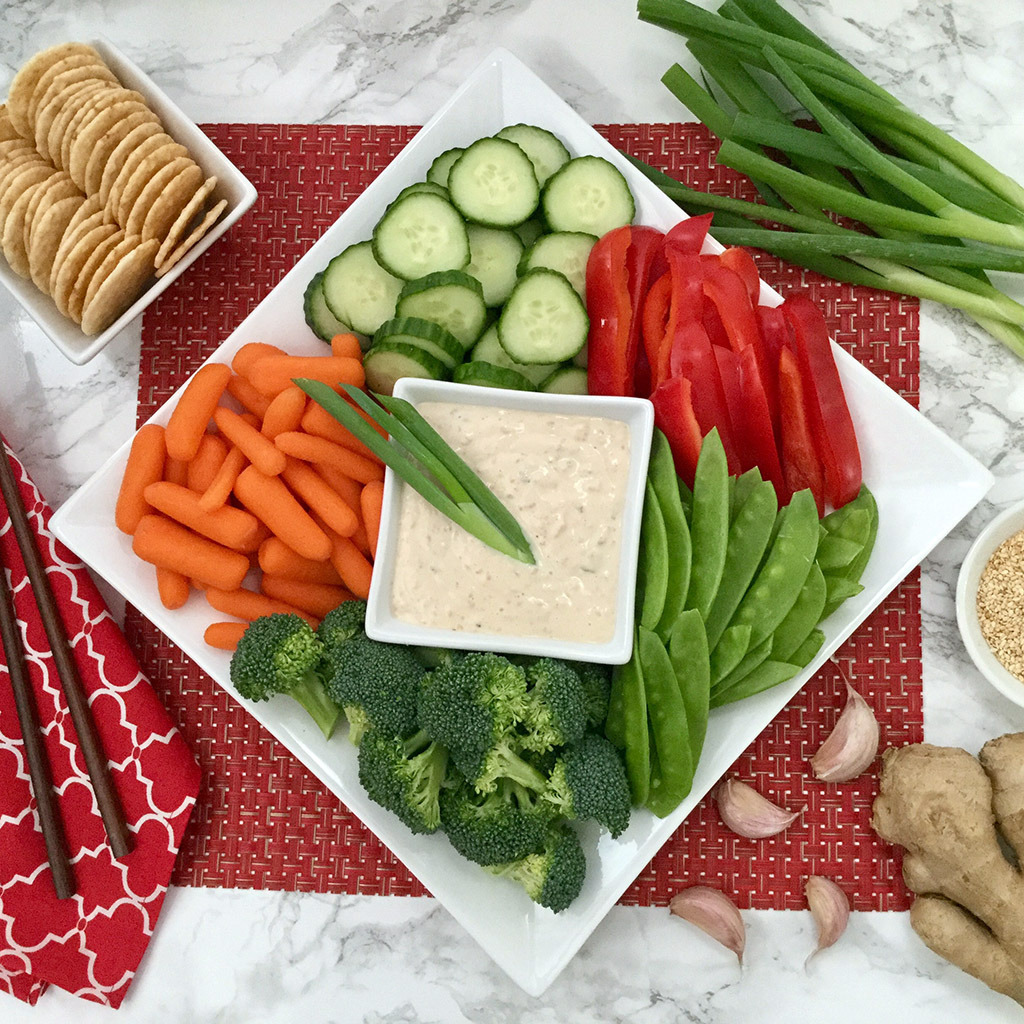 Serves 8
A creamy dip with a subtle infusion of Asian flavours. Perfect for any occasion from the festive season to summer parties. Serve the dip with a variety of colourful veggies and sesame crackers and surprise your taste buds.
Asian Dip
1 cup mayonnaise
1 tablespoon rice vinegar
½ teaspoon sesame oil
1 teaspoon orange zest
2 teaspoons freshly squeezed orange juice
1 teaspoon granulated sugar
1 teaspoon soy sauce
1 tablespoon freshly grated ginger
2 garlic cloves, crushed
1 tablespoon sesame seeds
½ teaspoon kosher salt
¼ cup finely minced green onions, plus more sliced green onions for garnish
Suggested Veggies & Crackers
Snow peas or sugar-snap peas, trimmed
Baby carrots
Cucumbers, unpeeled and sliced
Broccoli florets
Red peppers, sliced into strips
Cherry or Grape Tomatoes, left whole
Sesame Rice Crackers
Instructions
For the dip: In a medium bowl add mayonnaise, rice vinegar, sesame oil, orange zest, orange juice, sugar, soy sauce, ginger, garlic, sesame seeds, salt and finely minced green onions. Whisk the ingredients well until smooth. Cover and refrigerate for a few hours or overnight to allow the flavours to meld.
Assemble the Vegetable Platter: Transfer the dip to the appropriate sized serving bowl and garnish with fresh green onions. Place the dip on a large platter with a variety of the suggested vegetables and crackers around it. Keep refrigerated until needed.
The Kitchen Fairy http://www.kitchenfairy.ca/